How to Keep a House Clean with Little Kids Around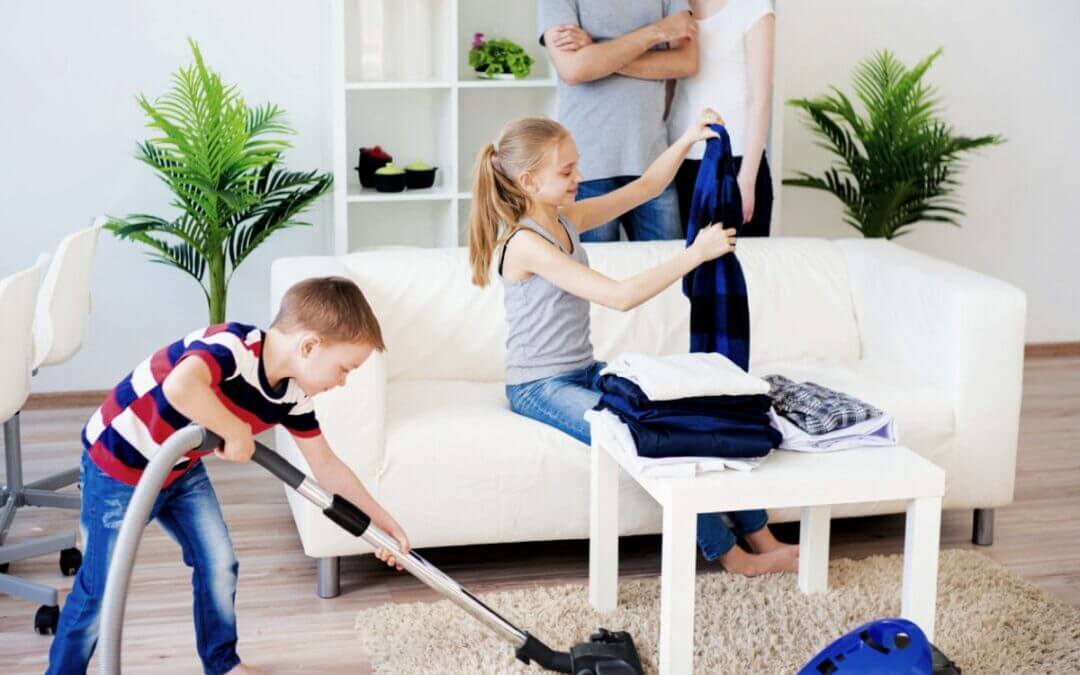 When you have little kids, you realize how difficult it is to get the routine chores done. Moms are concerned that they will have to abandon their beautifully arranged houses or well-styled rooms in favor of a crowded, chaotic residence.
When you have children to care for and don't have enough energy or time to maintain the home, it can be difficult to keep it clean and orderly.
So, in this post, we discuss how to keep a house clean with little kids around.
Declutter Regularly
One of the most important aspects of having a tidy house with kids is decreasing the number of items (in children's reach) in a room. The more stuff makes it difficult for your children to understand the house setting.
You could assume you're done if you clean the entire home in one go. But, if you want a tidy house, you must accept that decluttering is an ongoing process (particularly if you have children).
Invest in Storage Containers or Baskets
Using buckets and containers to tidy every area of your home is the simplest organizing approach ever. This is your secret for keeping rooms orderly and decluttered while creating spaces.
You may use baskets to keep clutter at bay in any part of your home, from the family room to the dining area and the kitchen. Check how containers and storage boxes are utilized in imaginative and stylish ways to organize every space in the house.
Make Daily Sweeps
Daily sweeps have a significant effect. You may tidy up after playtime and perform a thorough sweep once the kids have gone to bed.
Because of this factor, the house appears nice and tidy before bed practically every evening. It just takes around 10 minutes to complete.
Hire the HomePlus cleaning services in Acton, MA, for deep floor cleaning of your house, and we will help you to keep your house clean.
Do One Load of Laundry per Day
To keep the home clean with children, one tip we can give is to do your laundry daily. That's correct; no more attempting to collect laundry heaps and washing laundry once per week.
You must establish a habit of washing laundry in the mornings or just after dinner. It's not going to be long at all. Washing clothes in the machine will take you no more than 5-15 minutes.
Do a 15 Minute Nightly Clean-up
A 15-min evening schedule for cleaning and arranging the lounge room, family room, and playroom will make it much simpler to maintain the place.
Repair the bedding and pillows, set aside the toys and books, and tidy up everything else that isn't in its proper position. Imagine how great it would be to wake up to a tidy home.
Establish Cleaning Routines
Daily cleaning schedules are most effective when included in your morning and nighttime routines. You want things to become habitual so that when you don't do them, you feel like something is missing.
Daily cleaning habits keep clutter at bay, allowing your weekly cleaning routine to be much shorter. A weekly cleaning schedule, as opposed to tidying, focuses on extensive cleaning.
As your children get older, they will be able to take on additional tasks, particularly in your weekly cleaning routine. You may also educate kids on how to create regular cleaning routines to keep their spaces, especially rooms, clean and orderly.
Keep Systems Kid-Accessible
Having processes in place that kids can engage in is a key part of getting them interested in keeping the house tidy. This means that the young kids may quickly empty the dishwasher without having to worry about breaking dishes or carrying heavy items a great distance.
This includes bedrooms, where you can opt for drawers that are easily accessible and shorter hanging rods for smaller children to reach. You can also provide a hamper in each room, making it simple to dispose soiled clothes.
Make Purging and Tidying Part of Your Routine
The more things you have, the more difficult it is to maintain your house, especially if you have children. While cleaning, keep an eye out for items that haven't been used in a while and consider giving them to a charity.
If you find toys that your children have outgrown and haven't played with in a long time, it's time to get rid of them. Tidying should become automatic, a routine. And keeping things orderly is a lot easier when everything has a place.
Hire Professional Help If You Can
If you can't manage the cleaning process because of your kids (or any other reason), hire the HomePlus cleaning service in Acton, MA, to help you out. Our residential cleaners will clean your house with the best cleaning products that are safe both for you and your kids.
Book an appointment by clicking here.
---