How to Keep Your Dining Area Clean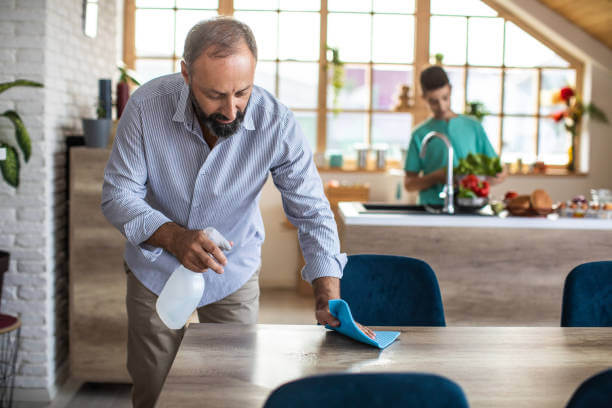 The dining room is where your family gathers to share a hot meal. It also hosts big events such as the forthcoming Thanksgiving and Christmas dinners.
Because this is where you eat, this area must always be kept neat and orderly. Nevertheless, as you perform other chores in this area except eating, it might become cluttered and dirty. It is important to remember that a tidy dining room creates a place where pleasant memories are shared. All that remains is to keep it clean.
This guide will show you how to keep your dining area clean.
Declutter
The first step to cleaning the dining area or any space is to clear out the clutter. A lot of things wind up on the table or on top of the buffet.
Make a basket for each member of the household. Allow them to place their stuff in their basket. Ideally, each person would then put everything back in its proper position.
Dust All Surfaces
Since the dining room includes a lot of furniture and materials that may readily collect dust, start by cleaning the dinner table and seats, as well as any additional furniture, such as the kids' table and the cupboards. You will also dust any ornamental decorations and trinkets. Lastly, dust the fans and lights to remove any dust accumulation.
Also, use a dependable wood cleaner or multipurpose cleaner to wipe the dining room table and chairs. Microfiber towels are great for cleaning these surfaces and leaving them streak- and lint-free.
Vacuuming the Floors
The floor will take a hammering from food detritus, which can become moldy if trampled into carpets and allowed to fester. Begin by vacuuming the area, mainly by using a hose attachment to clean along window ledges or door ledges which accumulate dust.
For curtains and blinds, vacuum dust from the slats of the blinds or vacuum down the drapes from top to bottom using the soft bristle attachment.
The soft brush attachment performs just as effectively on wooden floors, preventing scratching and dents from developing on the surface. You can also hire HomePlus house cleaning service in Lowell, MA, to help you clean your dining area (and the rest of the house depending on your requirements).
Vacuum Upholstery
Upholstered chairs may be a lovely addition to a dining room set. However, they can also be a crumbs collector.
To get rid of the crumbs, vacuum the cushions. If feasible, take the cushions and clean them below them. We will also clean any stains discovered on the upholstery.
Wipe Down Walls and Corners
Cobwebs can build up on walls and frequently hide in corners where another wall joins the ceiling and ground. To remove cobwebs, you will wipe off these locations.
Also, clean the windows from the inside and outside, as well as the window frame, with the best cleaning agent that you can find.
Wiping Down Your Table
Whenever it is time to clean your dining area, the center of your dining room will require particular attention.
You just cannot miss your table. Wiping it down and then properly cleaning it is usually recommended. Don't forget to arrange stuff and remove any debris that may be on top of it for a clearer and cleaner dining room table.
Because the dining room is one of the focal points of the Thanksgiving celebrations and having guests over, you must pay particular attention to keeping it tidy for the event.
Clean Silver
There is a simple approach to restoring your silver's luster. Aluminum (either a disposable aluminum baking pan or a piece of aluminum foil), baking soda, and boiling water are all you need.
Your silver will look great after drying. Nevertheless, you should still polish it with a fresh sponge and clean it clean with just a soft, dry towel to ensure that all tarnish has been eliminated.
Return your silver to the cabinet or buffet. Silver should be stored in chests or storage bags lined with cloth to assist in preventing corrosion.
Daily Dining Room Cleaning Tasks
The dining area maybe in shambles every evening, especially if you have children! Tackle these minor activities daily to maintain the room and make it easier to deep clean the area when the time comes.
After every meal, clean the dishes and wipe off the table.
Every night after supper, quickly wipe off the seats.
Remove any clutter from other areas of the house.
Every evening, sweep the ground around your dining area.
Hire the Professionals
The dining room is a frequently used area of your home, and it must be kept tidy. You may keep it clean and nice by following the methods outlined above.
If you need more assistance, you can hire HomePlus house cleaning services in Lowell, MA. Our experts will clean your dining area using the best cleaning products and in a professional manner.
Contact us by clicking on this link.
---