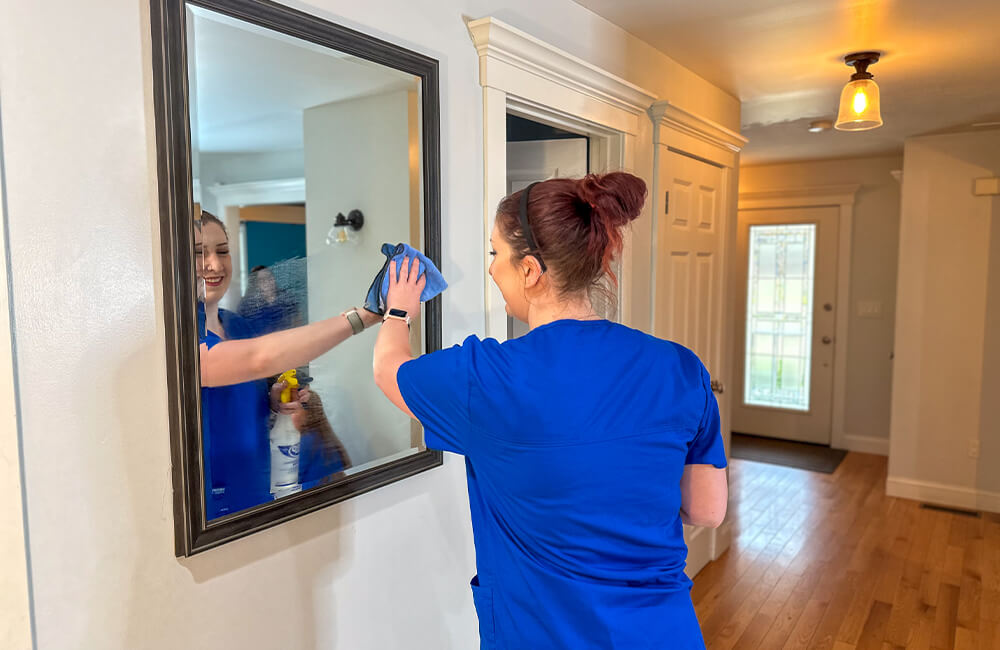 Our Services
Trusted Staff and Quality Service
Our most famous cleaning kit is our recurring cleaning. With the busy professional in mind, this kit is intended. You can receive thorough cleaning on an ongoing basis when you buy this kit.
By far the most superior & thorough house cleaning kit we sell is the top-to-bottom deluxe plus or deep cleaning. If you have not cleaned your apartment professionally in the last three months, we suggest that you go for deep house cleaning.
Our In-Home Wash and Fold Laundry and light house cleaning package is tailored to fit your needs. We do everything from start to finish:Sort, Wash, Dry, Fold, Hang & Put Away Laundry!
As a granddaughter and a former senior care provider, I understand the importance of cleaning. Keeping up with a home requires a lot of energy and time. We want to help you and your love ones enjoy your retirement years not spend it cleaning a house.
It can be a frustrating experience to travel! Let us take the burden of going in or washing your hands away from moving out. We recognize that cleaning requires the utmost attention to detail when going out. Detailed cleaning knowledge is the last thing you want to deal with when moving out of a home or apartment.
A deep cleaning is a great idea if you're moving, preparing for the holidays or planning an event. There's no need for you to lift a finger. When you call HomePlus Cleaning for a Deep cleaning, we take care all the dirty work.
Also known as Covid-19, Coronavirus quickly acquired an insidious reputation. It can live on surfaces anywhere from 5-17 days, depending on the surface. In terms of disease and virus cleaning and disinfection, HomePlus Cleaning follows the top procedures.
Working with a professional & reliable commercial janitorial cleaning services for your facility should not be overwhelming and chaotic. Here at HomePlus Cleaning, we strive to make the experience as smooth and painless as possible.
Your satisfaction is our top priority
From the moment you sign up for service with Home Plus Cleaning, we make sure you receive the best in-home care. We will go the extra mile to deliver the best house cleaning experience with a professional cleaning service.
In order to enhance your experience with Home Plus Cleaning, please read the following information.
Service Disclaimer
Home Plus Cleaning does NOT guarantee the removal of stains such as, rust, mildew or others caused by hard water build-up or lack of maintenance.
All areas are expected to be free of clutter.
We require to be informed of items or surfaces needing special care.
We are NOT responsible for damage due to fault and/or improper installation of any item.
All surfaces (i.e. marble, granite, hardwood floors, concrete floors, etc.) are assumed sealed and ready to clean without causing harm.
Furniture on wood floors is assumed to have proper protection.
Notice
We only clean windows and blinds that can be reached with a 2 stepladder.
For safety, no other jobs should be done while we are cleaning.
The presence of other workers or excess of people in the house might cause the estimate to be inaccurate.
Having other work done in a house while our teams are working might affect the cost and time needed to complete the cleaning to your satisfaction.
No heavy furniture will be moved.
Open communication
Home Plus Cleaning is a local company that relies primarily on word-of-mouth recommendations, so please communicate any concerns you might have about the service disclaimer or a house cleaning experience with our company. We want to make sure your experience is great so you share it with others.
Free Estimate in 15 Minutes or Less
---