How to Assign Cleaning Responsibilities to Kids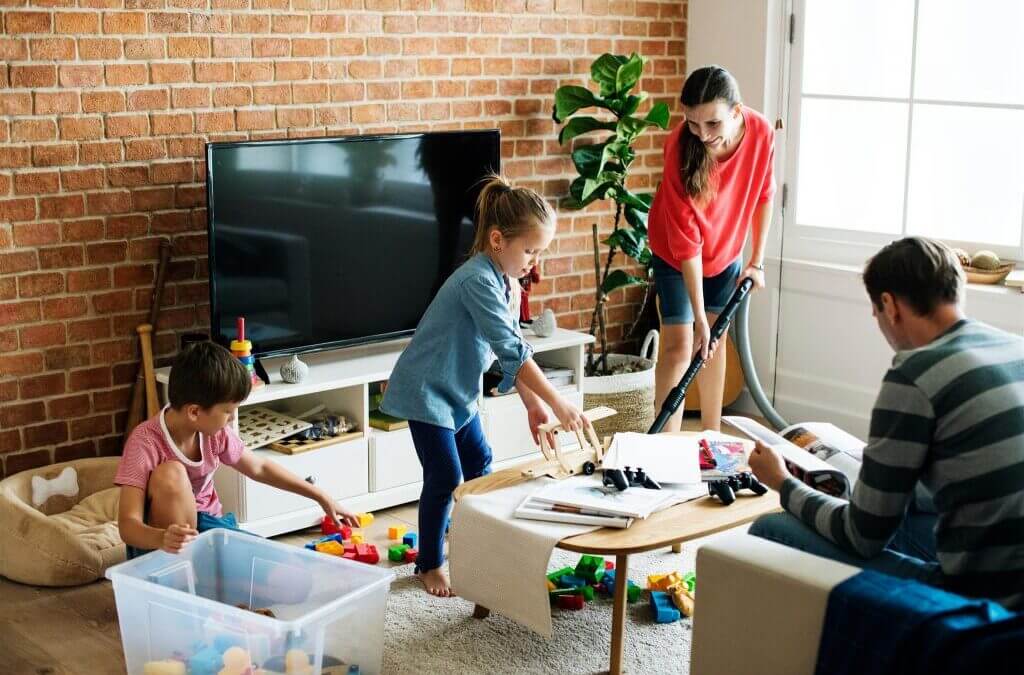 Cleaning up can be a tough chore if you have kids at home. When you reach home, the piles of toys and dirty dishes can become too much for you to handle. If you're a parent who prioritizes both your career and your children, cleaning might easily fall by the wayside.
Have the children involved in the process to lessen the burden of maintaining your house tidy. Giving your children household duties like cleaning the floor and feeding the pets sends them a crucial message that they are valued members of the family.
Research has also shown that kids who are given responsibilities have stronger self-esteem, are more responsible, and can handle frustration better.
Of course, you won't give your child an iron or have them mow the yard. Here is our guide for household cleaning tasks you could delegate to your kids.
Preschoolers
Around the age of four or five, children love to assist and adore spending time with their parents. The best thing about this age group is that most youngsters can rapidly take over their chores with little continuous supervision with a little hands-on help.
They are motivated by rewards for completing tasks since they tend to be more mentally developed than toddlers in this age group. At this age, a sticker chart is helpful as long as it's clear and allows youngsters to track their rewards to see how their efforts are paying off.
Preschool children can be given simple cleaning chores such as
Setting up and taking down the table
Assist with loading the dishwasher (for added fun, wash dishes together by hand!)
Cook together (kids love to experiment with mixing ingredients, stirring and other cooking tasks)
Put the groceries away
Keep their room and play areas organized
Picking their toys regularly
School-Age Children
Once kids start going to school, their responsibilities for doing chores should increase. School-age children should keep up with their self-cleaning responsibilities. For instance, show your children how to put their shoes and bags away when they return home from school.
Put new tasks on your child's chore list gradually. Teach children to complete each work step-by-step as the chores become more complicated.
Try to give them tasks they like, or at the very least, don't detest! And don't forget to reward them!
Some of these chores might include:
Feed and water pets
Sweep, vacuum, and mop
Remove the garbage and help with recycling
Fold and store laundry (especially their own)
Empty waste baskets
Wipe down bathroom fixtures
Preteens
Children between the ages of nine and twelve have a firm understanding of cause and effect. Helping them with the scheduling and tracking offers them a sense of ownership and goes a long way toward maintaining their enthusiasm. This age group can handle additional responsibility.
The idea is to get the kids to perform their tasks, so don't be hesitant to switch things up, even though you still want to utilize a cleaning chart.
Any of the tasks listed above for younger kids will work for this age group, but keep in mind that their drive to assert their independence and growing talents is strong. It might be preferable to give them work that requires more effort and skills, which may include the following:
Assist with washing the car
Fill and empty the dishwasher
Clean the bathroom (be wary of potentially harmful cleaners)
Pick up rubbish, rake leaves, and perform other yardwork
Clean carpets
Clean glass doors and mirrors
Teens
Most teenagers can handle almost any task, given that they know how to do it. But if parents want to keep things moving, they must be ready for the obstacle that comes with this enhanced capability.
You should keep an eye on your teens' hectic schedules and extracurricular activities in addition to your cleaning list because you don't want to overburden them.
Teenagers may start to dislike housework even with the correct incentives and careful preparation if they feel overburdened.
If you prepare ahead of time and pay attention to their mood, you can assign numerous "grown-up" chores to your teen with success. Here are a few of them.
Replace the vacuum cleaner bags, indoor air filters, and light bulbs.
Perform laundry
Clean windows
Clean refrigerators and other appliances.
Make shopping lists and assist with shopping
Other regular upkeep and cleaning
Get Professional Cleaning Now and Make Life Easier
You can always get a professional cleaning company like HomePlus for house cleaning chores that you and your family don't have time for!
As the leading providers of house cleaning services in Massachusetts, we are well-equipped to handle your cleaning demands.
Our team of experienced cleaners has all the right tools and products needed to help you get a spotless and lovely home environment.
Hire our house cleaning services in Massachusetts now with a single click here!
---