Top Tips for Cleaning Your Barbecue Grill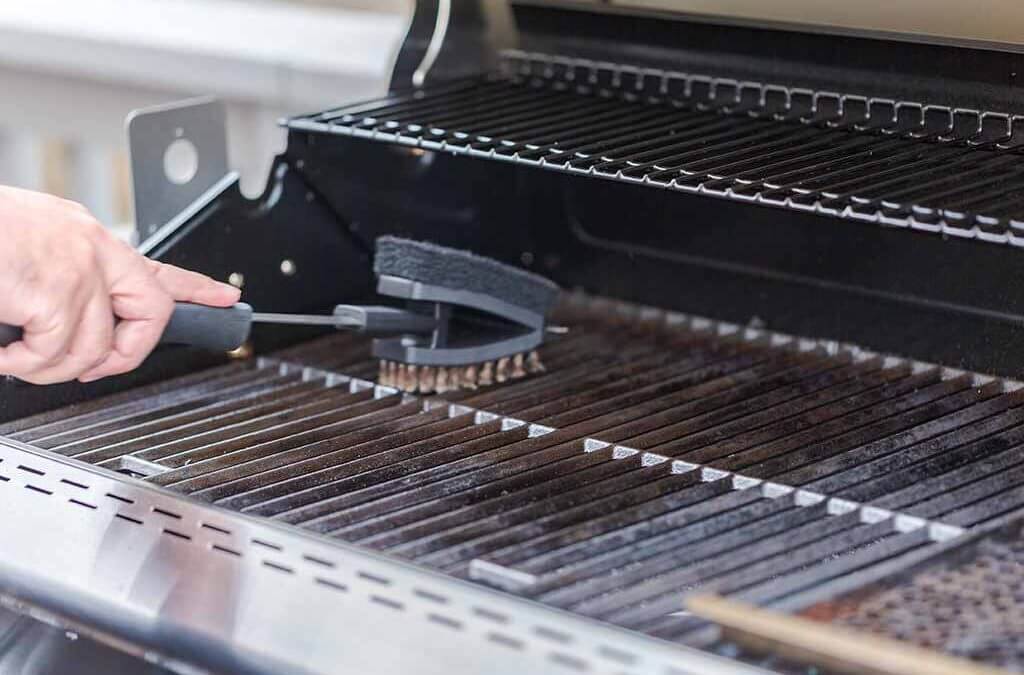 When the barbecue season arrives, it's important to get your things ready again for outdoor BBQs, steaks, and parties. The initial step in arranging a barbeque is to wipe the whole grill off the residues of last summer's gastronomic exploits. Only then can you begin to focus on this year's barbecue.
A tidy BBQ is healthy and functional. You don't want food particles and residue to accumulate in your food. So, wash your grill both before and after you cook. This will help you stay healthy.
In this article, we will go through the top tips for cleaning your barbecue grill. Let's get started.
Take Safety Steps
The first crucial thing to perform before beginning the cleaning procedure is to take safety steps. First, turn off the gas. Then, never try to clean a BBQ grill while it is cool; rather, strike while the irons are hot.
Make sure it is safe to proceed (you don't want to burn your hands if it's hot), and clean away the debris with a wet towel immediately after you grill while it's still hot – but just not that hot that it can harm you.
Clean the Grill with the Newspaper and Steam
Let your BBQ grill cool somewhat before laying a layer of old newspaper all over the top and heavily spritzing it with water. Keep the lid closed for 30 minutes to allow the steam to clean it. This should make the rest of the cleaning a lot easier.
Take one piece of newspaper and place it on the grill you have used, then spray the newspaper with water. Replace the cover, and your BBQ will be thoroughly cleaned with steam. It will begin to extract all of the oil, fat, and bits from the meal. Throw the newspaper away once you remove it since it will be oily and unclean.
Scrub the Grill
To remove any leftover food particles, use a grill brush with wire bristles. To avoid harming your porcelain-coated rack, use a grill brush with brass bristles. Then, using a dishcloth and warm soapy water, wash the grill.
If it doesn't work, you might try using a home cleaner. Some, though, can be abrasive and hazardous for a grill, so choose a cleaning that is particularly made for the task. You should employ HomePlus house cleaning services in Acton, MA since our cleaners will thoroughly and safely clean the barbecue grill.
Use Baking Soda
Baking soda is an amazing agent for dissolving all types of organic things, and it works wonders on oil and stuck-on food. Allow a moist BBQ grate to rest for 10 minutes before using. Then, using warm water and a scourer sponge, activate the soda. After rinsing, you should be good to go.
With its powerful cleaning capabilities, baking soda will not scratch your BBQ grill, which is vital for keeping your metal grill in good condition. When cleaning it, avoid using anything abrasive that might harm the metal covering.
Clean with Vinegar
White vinegar, a household favorite for cleaning, is an excellent substitute for steel cleansers. Fill a spray bottle halfway with white vinegar and half with water. Spray it on the grill and let it sit for five minutes before cleaning it away with just a fresh, clean towel.
Additionally, coat the grill with cooking oil so it will not stick any food particles to it. This is the best method to keep the grill clean.
Wash the Grill
Fill the bucket with fresh water and 3-4 drops of dish soap after emptying the filthy water. Then use a big kitchen sponge, and clean the whole exterior of the grill.
Avoid using metal sponges, steel wool, and abrasive scouring pads on finished surfaces since they might produce marks. After cleaning the exterior of the grill, clean up and dry all areas using very absorbent microfiber cloths.
Clean With an Onion
Believe it or not, a wonderful BBQ trick is to clean with an onion. An onion connected to a fork is an odd yet effective cleaning savior. While the grill is still hot, put half an onion to the end of the fork and massage it onto the warm bars. The liquid in the onion steams off any stuck-on food and removes pollutants with its effective antimicrobial capabilities.
Onions have unique antibacterial characteristics, and if you're grilling with charcoal, you can toss the discarded onion straight into the embers to give flavor to what you're grilling.
Hire the Professionals
Professional cleaners can help you with cleaning tasks. You can hire the HomePlus cleaning service in Acton, MA, for cleaning your home and barbecue grill and also anything else in your home.
Our professionals are well-trained and have special tools and safe cleaning products for cleaning. Book an appointment by clicking here.
---