Top 5 Office Cleaning Tips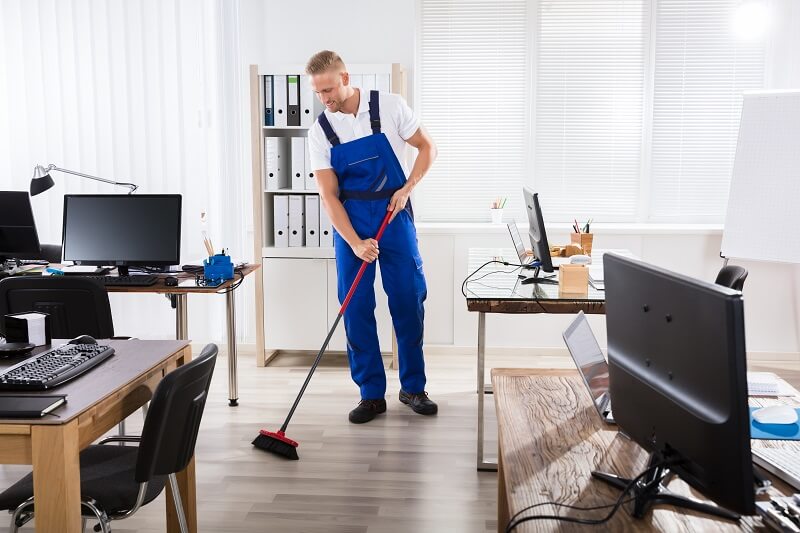 A clean office is a productive office. However, a large office occupied by numerous employees can quickly become dirty and unorganized. Employees are so busy with their work that they don't have time to dust their desks or clean up after spilling coffee.
Office cleaning can be overlooked, yet it is essential to running a successful business. Maintaining a clean, attractive office boosts business productivity and creates a welcoming atmosphere for your clients. Cleanliness can also help your best employees, maintain investors on board, and improve your company's image.
We have put together five tips that will make your office appear and feel like a place of business that deserves respect and a bright future.
1. Promote an Office Cleaning Culture
Make every employee understands the value of keeping a tidy workplace and taking some steps to keep shared spaces clean. This will make it easier to achieve a clean office.
Employees should know how their workspaces should look so that they can work towards a common goal.
Here are how employees can take care of their individual spaces
Wipe screens
Dust keyboards,
Organize paperwork
Sort Drawers
Clean Chairs at least once a week
Small meetings in each person's space can ensure that individual areas stay tidy. The office will function better overall if each employee takes responsibility to clean their space.
2. Make Cleaning Supplies Readily Available
It's great if each employee has their own cleaning materials at their workspace, such as screen cleaners and disinfectant wipes. Keeping cleaning products on hand all of the time may appear to be an unnecessary investment, but the extra cleaning it will result in will be well worth it.
Dustpans, brooms, paper towels, dish soaps, disinfectant wipes, and glass cleaners should be readily available in common areas. It's best to keep all of these materials in a single, easily accessible location.
If you provide cleaning supplies to your staff, they will use them, and the office will be much cleaner.
3. Pay Attention to Public Areas
Bathroom
Disinfecting your bathroom gives your business a clean appearance and your staff a healthier atmosphere. Healthy employees take fewer sick days, which means they are more productive.
If you want to save yourself the time and hassle, hire our professional office and house cleaning service in Carlisle to deep clean your bathroom and make it germ-free.
Reception Area
A well-kept, well-presented reception area enhances your company's image and is beneficial to both employees and guests.
The seating area should be clean and free of dust and stain. You can easily do this with a duster and a handful of fresh rags.
Kitchen
If your office has a kitchen, you should clean it with extreme caution. Store the food only in the recipient and cabinets. When the staff finishes eating, they should dispose of the food. Make sure you clean sinks, countertops, and tables at least once a day.
In addition to cleaning, you should also sanitize the kitchen and other locations where bugs can quickly spread.
Having a designated dining room will help avoid spills and crumbs on your workspaces and computer equipment.
4. Clean the Floors
Sweep and vacuum the floors at least twice a week. With so many people coming in and out, dirt is continuously being brought in from the outside. Dirt can also be kicked up into the air, where it can land on other surfaces or cause allergies.
It is best to have set days for mopping the floors, for example, Wednesday and Friday. Mopping can be done only once a week, given no catastrophes happen.
With a set routine and teamwork, you can keep your floors clean and functional.
5. Take Out the Trash Regularly
Dispose of the trash at the end of the workday so that it does not pile overnight and become a major problem. Every employee should have a wastebasket at his/her desk. The wastebasket should be emptied whenever something wet or containing food scraps is placed in it.
Allow your staff to choose who will take out the garbage each day. Rotate on a daily, weekly, or monthly basis, depending on what your team thinks is best.
The odor of trash will make a client question your company more than anything else! Make sure your employees understand how important it is for the trash to be taken out every day.
Hire Professionals
As you can see from these tips, keeping a tidy office is not an easy task. Having your employees clean the office can only go so far. Hiring a dedicated office cleaning service likeHomePlus is the best way to ensure that your workplace is spotless and functional.
Our professional house and office cleaning service in Carlisle, MA, has the required tools and expertise needed to achieve the highest level of cleanliness. Leave your office cleaning responsibilities to us and let your employees concentrate on what they do best!
For booking, click here!
---