The Complete Guide to Cleaning Rugs and Mats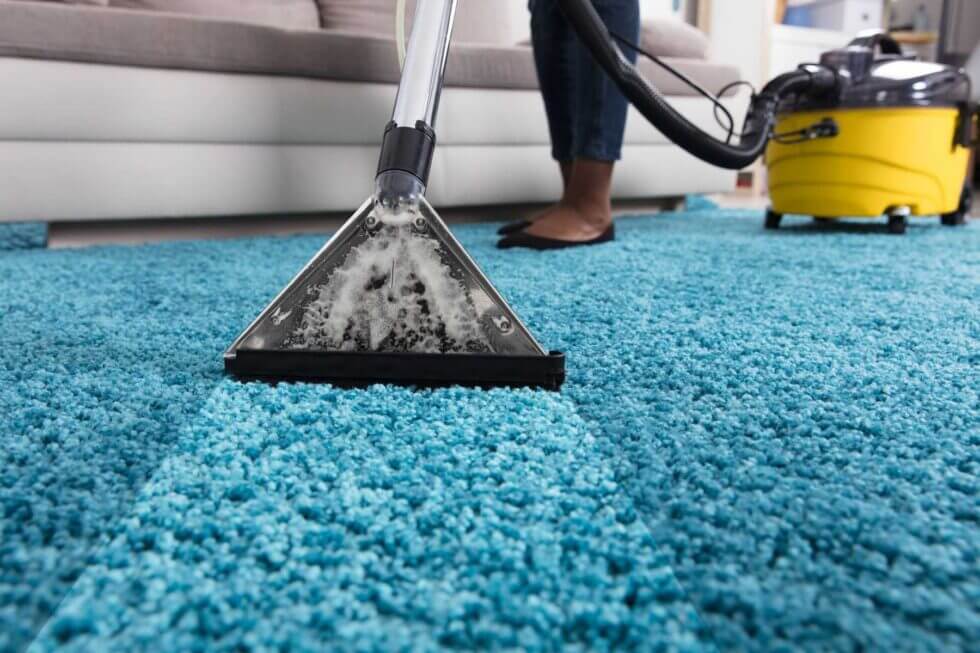 Rugs and mats are excellent complements to any home or business. Not only can they bring flair and warmth to a space, but they also prevent the floors from filth and wear and strain. Yet, they can acquire dirt, dust, spills, and stains over time, making them ugly and possibly posing health dangers.
Frequent cleaning and care of rugs and mats are required to keep them looking new and sanitary and to extend their lifespan. As a result, you may quickly clean it in multiple steps.
In this article, we will provide you with a complete guide to cleaning rugs and mats. Let's start.
Vacuum Rugs
Rugs and carpets should be vacuumed at least once a week or every two weeks. Consider vacuuming more regularly, up to twice a day, in high-traffic areas. To neutralize odors and keep your rug smelling fresh, sprinkle a dab of baking soda on the surface before vacuuming.
Lastly, avoid using the beater bar (particularly when washing shag carpets!) and reduce the airflow setting to avoid harming the rug's fibers and extending its life. Rugs can get damaged if they are not washed correctly. So, you can contact HomePlus house cleaning services in Woburn, MA, to clean them.
Cleaning Handmade Wool Rugs
The smartest way you could do this is to vacuum your wool rug at a minimum once a week and more frequently if the carpet is in a high-traffic area. To do this, utilize the right vacuum cleaner modes for your carpet and suction the carpet from point to point. Vacuum the backside of the rug at least annually.
Handcrafted wool rugs should be carefully cleaned every 12 to 18 months. Steam cleaning is an efficient and effective method of cleaning too. To wash it, first, check if the color is permanent with a wet cloth, then combine cold water with a suitable detergent and apply it to the rug with a sponge. Then, rinse it with water and let it dry.
Cleaning Basic Stains
The secret to removing most simple stains is to act fast. The first stage is to clear the area of any physical debris. At this stage, avoid using a paper towel or rag to avoid pushing the trash deeper into the pile. It's best to gently push the dirt up and away using an instrument like a fork or a spoon.
After that, gently blot the area with a moist paper towel and treat it with a stain-removal solution. Next, swab the area dry with cold water. Warm water should never be used. For obstinate spills, repeat this technique as needed.
Cleaning Pet Stains
Pet stains are among the most prevalent and hated stains that humans must deal with. Urine stains will begin to smell if left untreated. As a result, these stains not only look unsightly but may also pose health dangers. An essential thing to remember when dealing with pet stains is to never use a steam cleaner. The high heat will simply accentuate the stench and help the stain solidify.
Instead, use a cleaner made specifically for pet stains. They are particularly designed to combat the foul-smelling and potentially hazardous compounds contained in urine. Pet stains will be no problem if you act fast, avoid the heat, and remember to dab softly rather than scrub.
Wash Mats by Machine
When it comes to cleaning dirt trap mats, you have two alternatives. The first option is to wash it using a hose, then allow the dirt trap or floor mat to air dry, depending on your needs. The latter is unquestionably the most practical, simple, and low-cost choice.
Nevertheless, please verify the manufacturer's cleaning recommendations to see if a machine wash is suggested for your dirt trap mat.
Wet and Dry Vacuum Cleaner
To clean your floor mat, utilize a vacuum cleaner designed for commercial and industrial use. This is because these vacuum cleaners have a strong motor that can readily take up and gather dirt, dust, and debris that is stuck and difficult to see.
Next, soak the carpet and allow it to dry. Certain dirt traps and floor mats, such as those used in restaurants and bars, are made of rubber. To clean these sorts, you must mop or damp wipe them at the same time. But follow the manufacturer's directions.
Cleaning Different Types of Rugs
The information above will go a long way with most rugs, but there are some extra steps you need to take depending on the type and substance of your rug.
Wool rugs may be vacuumed and washed as previously described, while other rugs on the market today are manufactured from synthetic materials such as polypropylene, polyester, and acrylic. To clean these rugs, avoid using hot water and instead use liquid detergent and dry spills quickly.
Hire the Professional Carpet Cleaners
HomePlus professional house cleaners in Woburn, MA, have great techniques for cleaning rugs and mats, no matter which type of rug and mat you have, just contact us, and our cleaners will be at your home!
Contact us by clicking here.
---