The Complete Guide for Winter Laundry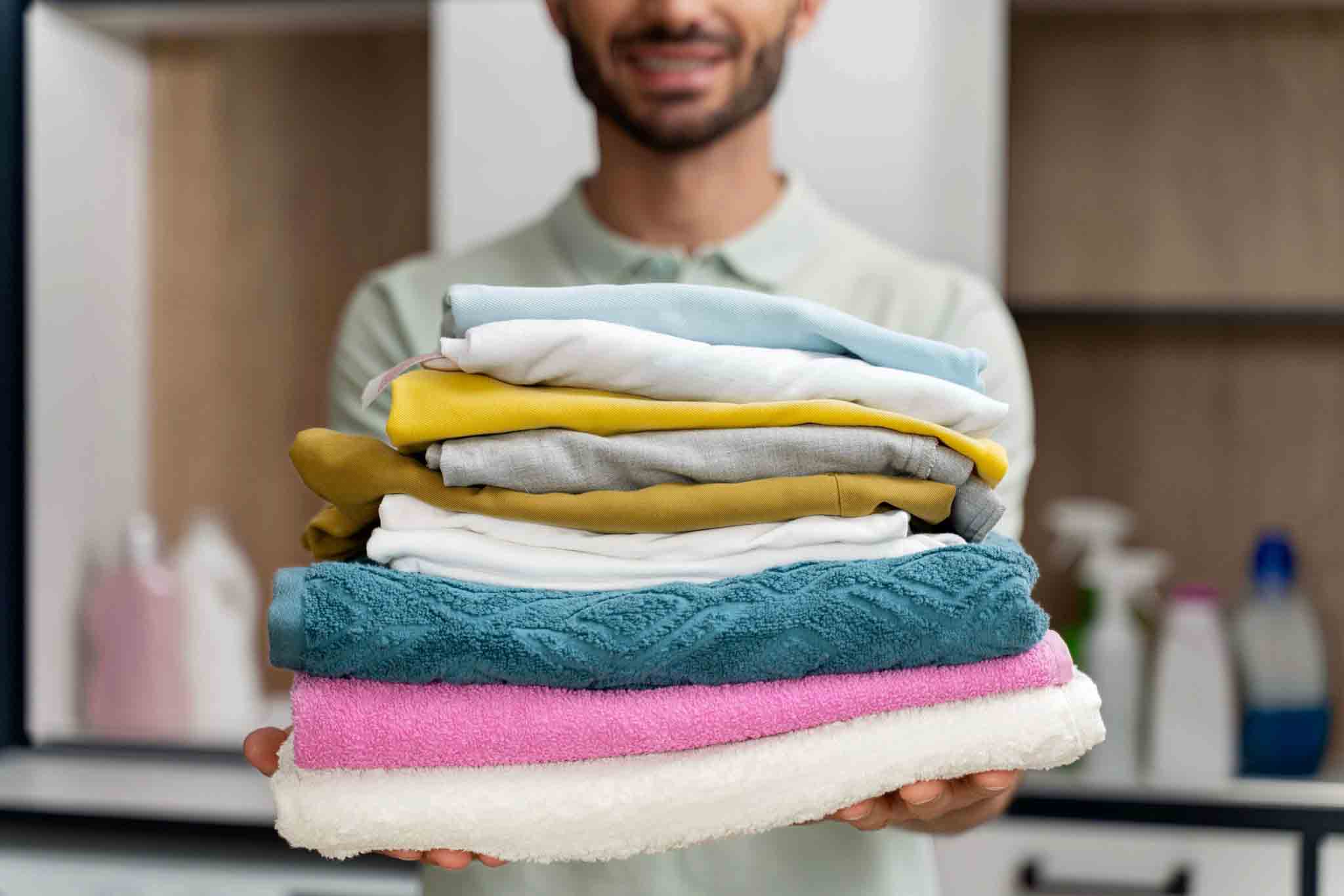 As cold as winter might be, it is the use of basic skills such as washing or showering that allows our bodies to truly absorb the spirit of the season.
Winter has arrived, so stock up on your favorite accessories and clothes to appear fashionable this holiday season. From coats to sweaters, jackets to beanies, etc., you must keep them properly arranged and clean, and, of course, when the season is over, preserve them. So, how can you clean your winter clothes?
This article will provide you with a complete guide for winter laundry. Let's get started.
How to Clean Wool Clothes
Wool clothes, when handled correctly, may become a long-lasting investment. Woolen clothing should be treated with delicacy if it is to preserve its lovely, fluffy form.
When machine-washing woolen items, resist the urge to wring them or use a quick spin cycle. Then, roll the clothes in a towel and press out the towel to remove the extra water. If you hang them, lay them flat on a clean towel to dry. Do not use a dryer to dry your woolen items. This may cause the clothing to shrink.
Because winter garments come in a variety of styles, they need to be cleaned individually and in different ways. You can always call HomePlus house cleaners in Westford, MA, for extensive laundry cleaning of your winter apparel and laundry room.
How to Clean Leather Coats and Jackets
Leather coats and jackets are commonly created from cowhide, but they may also be manufactured from the hides of bison, deer, and sheep. It requires some effort to keep a leather coat nice and supple.
To clean it, use a mild detergent with warm water and wash it with your hands, not in the washing machine, and afterward rinse it with fresh water. Let it dry naturally in the sunlight rather than in the dryer.
To remove stains from the leather, massage the location with a wet cloth. However, if this is hurting your jacket, use the above cleaning procedure.
Cleaning Fleece Coats and Garments
Due to its insulating properties, fleece is a traditional winter fabric that is often used for sweaters and coats. When washing, carefully read the care label. Natural fleece is composed of wool, while synthetic fleece, which is mainly made of polyester, is more widespread.
To clean fleece coats and clothing, use ordinary or heavy-duty detergent in warm or cold water. However, it is ideal for washing fleece clothes at low temps to keep the fluffy and soft appearance. And apply a permanent press cycle with a low drying cycle. If you have to iron, use the least temperature setting possible.
Cleaning Your Sweatpants
Put all of your sweatpants in the washing machine. And set the washing machine to cold water and, if desired, add detergent and fabric softener. Using hot water will cause your sweatpants to shrink. Run the rinse cycle, and then extract the sweatpants from the washer and set them inside the dryer.
Then, set the machine to low tumble dry. Now, take the sweatpants from the dryer, turn them inside out again, and enjoy your new and sparkling sweatpants.
How To Wash Sweaters
Sweaters are fragile, and washing machines can cause shrinking, but you can clean them by utilizing delicate slow cycle settings. Handwashing, on the other hand, is the most sensitive at-home cleaning approach.
Follow these steps:
Fill a tub halfway with cold water.
Use a gentle detergent.
Soak your sweater in the water, inside out.
Allow the sweater to soak in the liquid for around 15 minutes. Rinse it after that.
Refill your tub with fresh water and rinse your sweater in it.
Refrain from wringing out your sweater. Rub the sweater lightly, then lay it plain to dry. Do not hang it since this will cause your sweater to expand.
Air Drying
One of the most relaxing aspects of winter is the intense sunlight that reaches your railings from the beginning of the morning. This is an excellent chance to air-dry your items.
Try to do your washing while the sun is shining brightly, for the clean garments can be exposed to pure warmth. Ensure to leave it for at least 2 to 4 hours to dry properly. Air drying preserves your clothes' colors vividly and protects them from damage and wear.
Another fantastic item to help dry clothing and minimize allergies in the house is a dehumidifier. Several of the most recent versions even include laundry-drying Dehumidifiers. Their main use is to eliminate extra humidity from the air, but they may also be used to dry clothing.
Hire the Experts
As you are aware of the many forms of laundry cleaning, you can see that winter laundry cleaning is not a simple task. But if you have some additional time, you can accomplish it.
You might also call the specialists at HomePlus house cleaners in Westford, MA. Our cleaners will arrive on time and do all of your laundries, whether it is summer or winter, and of any variety.
Click here to request a quote.
---