How to Deep Clean Your Laundry Room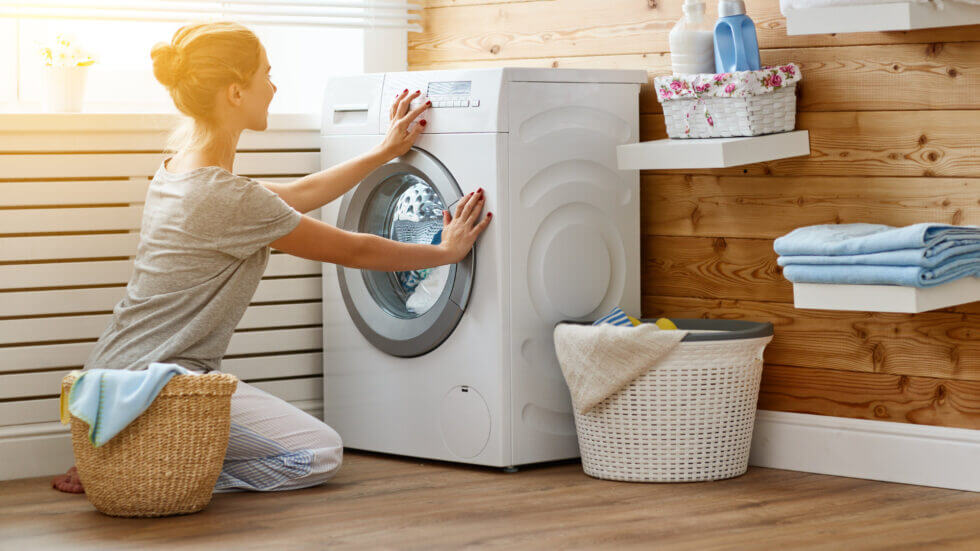 Behind the scenes, our laundry facilities and equipment do a lot of unnoticed heavy lifting for our homes, washing our clothes and storing soiled laundry.
Washing machines and dryers, on the other hand, are susceptible to creating unwanted scents in addition to undesired mildew and mold if not properly maintained.
HomePlus house cleaning service in Andover, MA, can provide one-time or daily cleaning services for your laundry room to keep it appearing and feeling fresh. We'll assist with everything from washing off counters to dumping garbage pails so you may focus on more vital things.
This post will show you how to deep clean your laundry room if you decide to do it yourself. So, let's get started.
1. Clean All Dirty Clothes
Let's begin with the most critical step: clean all the soiled garments in your laundry room. Finish the washing. Put away all the clean clothing. Clean the filthy clothing in the washing room and put them away as well. Clean the stains of clothes also.
After that, your space is free of filthy clothes, allowing you to do your cleaning tasks in the laundry room more conveniently and swiftly.
2. Clean the Washer
Cleaning your washer isn't only for show; it also helps reduce build-up in hoses and pipes. Begin by starting an unfilled, normal, hot cycle with 2 cups of vinegar then instead of chemicals. Then, mix vinegar with water and clean the interior of the washing machine with this combination. Continue with one additional blank, standard hot cycle only with water.
If you're using a front-loading laundry washing machine, check inside of the airtight rubber gasket protecting its front since mold can accumulate in this area.
3. Clean the Dryer
To keep clothing completely drying, maintain your safety by clearing the lint trap once a month. Wipe the aperture of the trap using a dryer lint brush. Vacuum the brushes tidy and continue the operation until no further lint remains to be removed.
Check for stains within your dryer as well. Crayons, paint, color, and other materials find their way inside your equipment and then get difficult to remove.
Similar to the washer, you should clean the exterior of your dryer. You may clean the washing machine utilizing the same water and soap you used to clean it.
4. The Cabinets
Some other item you should make a point of cleaning thoroughly in your laundry area is the cabinets, apart from accessing them and contacting the handles, cupboards likely to get dirty via dust and spills.
The cleaning solution you'll use for the cabinets is heavily determined by the sort of cabinets in your house. The majority of cabinets may be cleaned with warm water and dish soap.
5. Windows and Vents
The windows, if any, are the next thing to clean in the laundry room. Some laundry rooms are significantly larger than others. If your laundry room has windows, spray the inner surface and the outside of windows, being sure to wipe the sills as well as the borders of the windows in the procedure.
It is also necessary to thoroughly clean your vents. Firstly, take your swifter to them and remove as much dust and dirt as feasible. Then, using the vacuum (and the brush attachment), clean out the vents.
6. Clean the Countertops
It's now time to thoroughly clean all of the surfaces in the laundry room. To clean countertops in your laundry room, spritz them down with a multi-surface cleanser and let them rest for 2 to 4 minutes.
After the solution has had time to work its magic, go on and clean everything down, examining the line of sight to see if there is something you ignored.
7. Sanitize Other Appliances
Steamers, irons, and other minor laundry room gadgets need some attention even if they aren't the stars of the show. Clean your iron once a month using dish soap, baking soda, vinegar, or salt. Next, load the tank with distilled water, turn the iron to high, and then let steam cleanse the iron's vents naturally.
To remove muck from a steamer, use vinegar and the high-heat setting. Remove the vinegar and fill the steamer with distilled water. To eradicate any germs, wipe off any other equipment with sanitizing cloths or all-purpose wipes.
8. Mop the floor
Cleaning the floor is a typical way to finish cleaning your laundry room. Leaving this procedure till last ensures that any dust mites, unwanted material, and other debris that have found their way to the floor are wiped away.
Begin in one area of the laundry room and work your way around until the whole ground is tidy. Allow it to dry before stepping on it.
Hire a Cleaning Service
Some properties just require professional assistance, which is OK. HomePlus expert home cleaners in Andover, MA, can supply you with a routine house cleaning to assist you in completing all of your duties without lifting a finger. We collaborate with you to develop a flexible cleaning plan that fits your family's needs.
Contact us by clicking the link!
---