Important Office Areas to Clean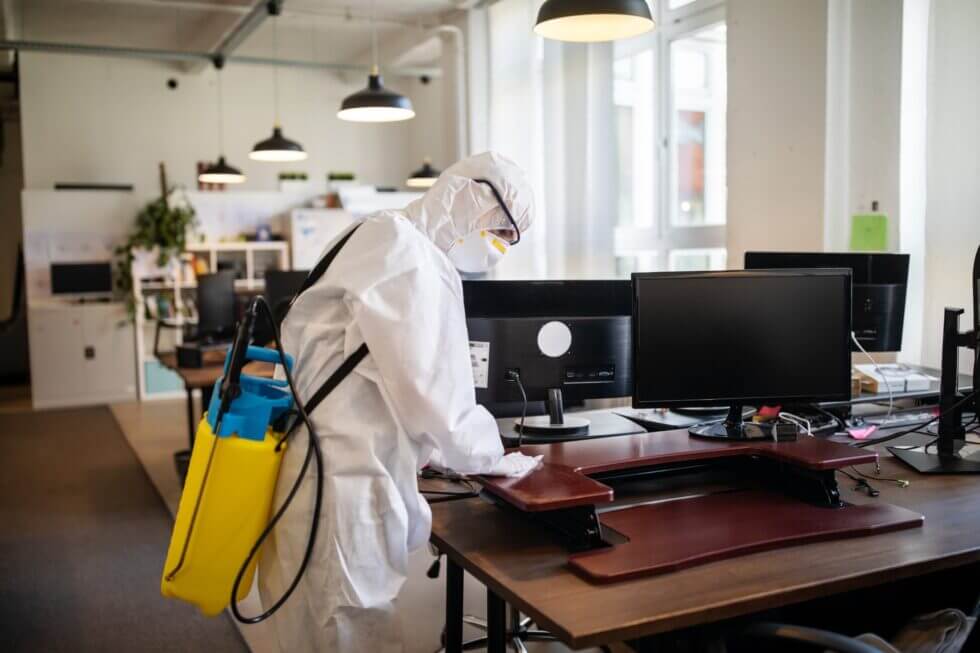 Nothing gets you going in the morning like a freshly cleaned office. It smells lovely, looks fantastic, and, best of all, promotes employee productivity and happiness.
While every part of your office needs a deep clean, some areas need special attention. Infections are more contagious in commonly used spaces because of higher community interaction.
A good rule of thumb is to focus your cleaning efforts on the most inhabited regions and frequently touched objects.
Pay special attention to the following areas when cleaning your workplace.
Door Handles
Door handles are one of the dirtiest pieces of equipment in the office. This includes handles on doors, refrigerators, microwaves, drinking fountains, and sinks.
Handles are often used by employees who don't frequently wash their hands. As a result, germs, the flu, a regular cold, or a more serious sickness can spread throughout the office. This is especially problematic for handles on microwaves and water fountains since germs, mucous, and other bacteria are disseminated close to where people eat and drink.
It's important to wipe down every handle in your office at least once a week with an antibacterial wipe.
You can also foster healthy habits in the workplace by encouraging regular hand washing and providing hand sanitizers.
Front Entrance
Your front entrance is more than just a way for your staff to enter the building each day. It's your only chance to make a good first impression on potential customers. If you show them dirty floors, a dirty reception area, and discolored seats, they may be hesitant to deal with you.
HomePlus office and house cleaning service in Andover, MA, can help you present a clean and appealing room to create a positive impression on your clients.
Office Desks
Office desk surfaces are commonly ignored while cleaning, but they are used more regularly than many other things on this list. Your employees will spend the majority of their day at their desks, which may include lunchtime, where crumbs will quickly attract germs.
Wipe down your desk once a week with an antibacterial wipe for around five minutes for effective cleaning. This easy cleaning exercise can keep your employees productive and healthy for longer periods.
Office Phones
Office telephones need regular cleaning because the buttons and mouthpiece are vulnerable spots for germs and dust to accumulate. This is potentially dangerous because phones frequently come into touch with your hands and face, increasing your chances of falling ill.
When cleaning the office phone, wipe the receiver and mouthpiece with an antibacterial wipe and clean between the buttons with a cotton swab or Q-tip.
Hardwood Floors
Hardwood floors require more than just cleaning to restore the lustrous shine that is often obscured by grime. It also shields them from harm. All of that dust and debris accumulate over time, forming a sandpaper-like layer.
Whenever someone walks over a dirty hardwood floor, the top layer of the floor slowly grinds and gets scratched. This means you'll have to repair the flooring in your building over time, which isn't a cheap undertaking.
With regular sweeping and mopping with a hardwood conditioner, your janitorial staff can prevent the sandpaper effect from affecting your hardwood floors. Not only will this eliminate dirt, but it will also protect your flooring from future grime.
Keyboards and Mouse
The most common object found in an office is the keyboard and the mouse that is attached to every computer. These office materials often contain germs and mucus because people use them without washing their hands. Crumbs can also get lodged between the keys and attract bugs during an employee's lunch.
To clean your keyboard, turn it on its side and use cotton swabs and a can of compressed air to remove crumbs and debris from the keys. After that, sanitize the entire keyboard with an antibacterial wipe.
Before cleaning your mouse, turn it off and remove the batteries. Use the same cleaning solution you did for the keyboard to disinfect and eliminate germs from small nooks.
Carpet and Rugs
While entryway rugs are great for keeping mud and debris off your floors, they also trap dust, allergies, and other pollutants. These carpets become saturated with time, resulting in poor indoor air quality in your building.
Avoid using harsh chemicals to clean carpets. They will eliminate allergens and dirt build-up but at the same time degrade the quality of the carpet's fibers. As a result, the lifespan of your carpet reduces, and its ability to trap dirt diminishes.
Hire a Professional Cleaning Service
At HomePlus, we recognize the value of excellent cleaning services in reducing sick days and increasing staff productivity. We also have years of experience to back it up.
Our office and house cleaning service in Andover, MA, has the proper equipment and knows all the advanced techniques to clean and sanitize your office. We are also environmentally conscious and only use natural cleaning products with fewer toxic chemicals.
Book us in 60 seconds by clicking here!
---