6 Best Homemade Cleaning Solutions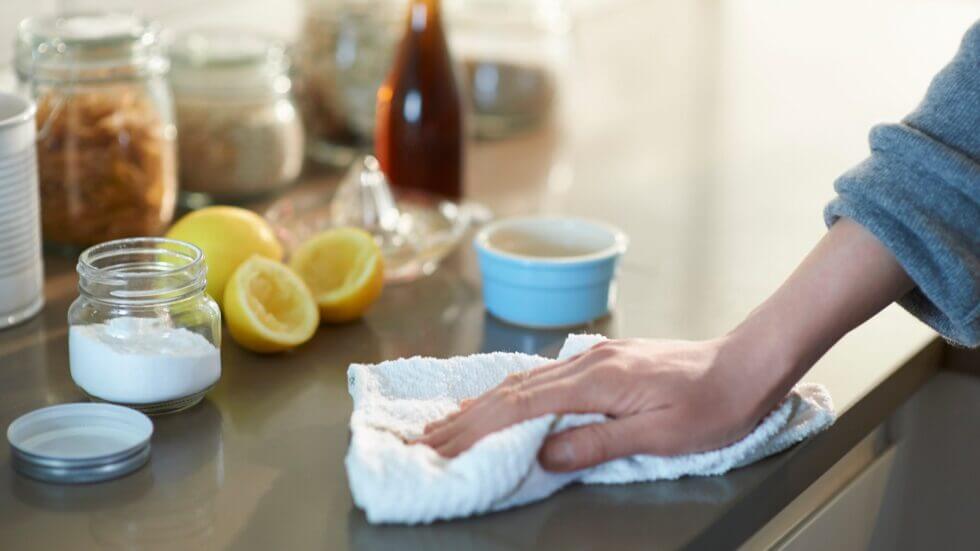 Simple chemicals and substances are used in homemade or organic cleaning solutions to eliminate filth, deodorize, and, in certain circumstances, disinfect objects. They're fantastic at making surfaces seem spotless.
Certain pantry staples (such as baking soda and vinegar) are great DIY all-purpose cleansers that cost close to nothing. Therefore, the next time you have a major mess at home but are out of your cleaning products, consider making one of these DIY homemade cleaning solutions instead of running to the grocery store. These natural cleaning solutions are more than capable of tackling any form of filth and garbage.
In this article, we will prepare the six best homemade cleaning solutions. But first, let's look at some strategies to make these cleaning solutions.
Important to Remember Strategies
Aside from having the correct DIY cleaning ingredients, a few strategies can help you clean your house the green way:
Containers should be clean: Keep homemade cleaning supplies in clean, unused containers. Never utilize bottles that have previously carried chemicals. To keep your family safe, label homemade cleansers and use the appropriate solution for the purpose.
Try it out:\ Before spraying a cleaner on any surface, try it first in a concealed area to ensure that it does not harm or ruin the material.
When you should avoid vinegar:\ Never use vinegar solutions on granite or marble surfaces, metal, cast iron, or waxed surfaces. The acid in vinegar may etch, pit, and strip finishes, as well as harm them in other ways.
In case you want to hire a professional, HomePlus house cleaners in BELMONT, MA can assist you with all your cleaning tasks.
Let's get started with the six best homemade cleaning solutions that work effectively.
1. Glass Cleaner
This DIY glass cleaner can shine up your windows and mirrors. You will need:
2 cups water
1/2 cup white or cider vinegar
1/4 cup rubbing alcohol of 70% strength,
1 to 2 drops of orange essential oil for scent (optional)
Simply mix these components in a spray bottle to create a DIY cleaner. It not only cleans well, but the orange essential oil adds a nice organic citrus aroma, and the rubbing alcohol assists it to drain rapidly, reducing stains and streaks.
Note: Before cleaning off the glass or mirror, apply the mixture on a paper towel or clean soft cloth first.
2. Granite Countertop Cleaner
To make a granite countertop cleaning solution, you will need:
Isopropyl alcohol
Liquid Castile soap or normal dish soap
Water
In something like a spray bottle, combine 1/4 cup isopropyl alcohol, a little drop of liquid Castile dish detergent, and one and a half cups water.
Apply to granite surfaces and countertops. Rinse well with water and pat dry with a microfiber towel.
3. Carpet Deodorizer
To tidy up area carpets and floors, make your carpet odor eliminator. Pick essential oil which scents the nicest to you for this Homemade cleaning method.
You'll need to use:
1 pound baking soda
12 cups of cornstarch
Five drops of essential oil of choice
In a medium mixing dish, mix the sodium bicarbonate and cornstarch. Next, add five drops of your preferred essential oil. Shake the components together, then transfer the solution into a Mason container using a tube. Punch tiny holes in the container's lid using a hammer & nail. As required, spray the homemade deodorizer over carpets. Give at least 30 min for the solution to settle before mopping.
4. Homemade Bathroom Cleaner
For a bathroom cleaner, you will require the following items:
White vinegar, 1/3 cup
Isopropyl alcohol, 1/3 cup
Distilled water, 1/3 cup
A few drops of citrus essential oil
Castile liquid soap or normal dish soap
In a spray bottle, mix the vinegar, isopropyl alcohol, & freshwater well with essential oil. For depth wash of the toilet, heat 1/2 cup vinegar in the heater, then combine it with 1/2 cup dish detergent in a spray container. Allow three to five mins, then wash clean, using an abrasive sponge for all of this.
5. Tough Messes Multipurpose Cleaning Scrub
To make a homemade cleaning scrub, follow this process:
Combine lemon juice and borax powder.
Make a paste using a few teaspoons of lemon juice and 1 cup of borax powder.
Scrub difficult rust stains on sinks with this product.
Note: Never use this solution on marble or granite because the acids in lemon juice can damage these surfaces.
6. Homemade Laundry Detergent and Rinse Aid
To make a homemade laundry detergent, use:
1 bar washing detergent
1 cup of borax
1 cup dishwashing liquid
1 cup bleach (oxygen)
Grate a bottle of laundry soap until you get approximately 2 cups of grated soap. Combine all of the ingredients. Store in a jar with a cover. For a light load, use two tbsp; for a heavy or dirty load, use four tablespoons. Wash as usual.
Clean Your Home by Hiring Professionals
If you discover that your homemade cleaning solution is not cleaning well, it is best to leave it to the professional house cleaners in BELMONT, MA. HomePlus cleaners will clean your house using homemade cleaning solutions while also keeping you safe from potentially hazardous cleaning solutions.
Click on the link to book an appointment.
---