How to Deep Clean Your Kitchen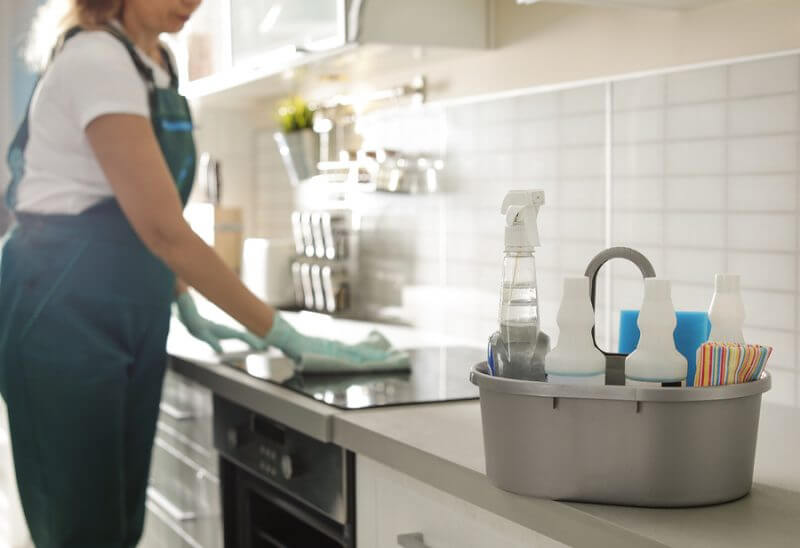 It's no surprise that cleaning the kitchen might feel like a huge undertaking because it's where you make your favorite dishes, share meals, and often congregate as a family. Whether it's due to burnt-on grease-making stove cleaning a misery or a dishwasher that doesn't operate as well as it used to, getting your kitchen back into working order can be a real hassle.
A periodic deep clean from our house cleaning service in Dracut, MA, especially in hard-to-reach areas, will make everyday maintenance more manageable. We will make your entire area sparkle anew with our eco-friendly solutions and a little elbow grease.
If you prefer to save money by cleaning yourself, this article will show a step-by-step process for cleaning your kitchen from top to bottom.
1. Clean Kitchen Cabinets
The cabinet is the first thing people notice when they walk into your kitchen, and with such a prominent display comes the necessity for a comprehensive scrub.
Apply a Castile soap, a microfiber cloth, and a little elbow grease. This will make your kitchen cabinets appear as good as they did the day they were installed. If your cabinet doors are oily, wipe them off with a mix of one-part vinegar to two parts water.
2. Organize the Pantry
Start by taking out all food and placing it on a table or counter. Make sure you examine labels and discard any expired, stale, empty, or inedible things. Fill a bag with all unopened donations that you won't be able to eat before they expire.
When everything is out, wipe out the shelves using soapy water or a kitchen cleanser. Then put the food in the cabinet. (Before you put it back, you might want to take a pantry inventory.)
While putting things back, a separate area for open items and place similar items together, put oldest items in front and newest in the back.
3. Deep Clean Your Appliances
Here are the two most common appliances you can deep clean:
Oven
The Oven deserves special attention. Every few weeks, it requires a deep clean due to baked-on stains and charred leftovers of previous recipes. Don't forget to look inside!
For a thorough cleansing, wash the racks individually with soap and water.
Refrigerator
The refrigerator holds perishable items, making it prone to spills, leaks, and rings left behind from containers.
We suggest removing everything inside and soaking the bins in baking soda and water for a serious clean. For a stainless-steel exterior, Mix one-part vinegar to two parts water and wipe off with a microfiber cloth.
Once the interiors are cleaned, put the food back in the refrigerator. Assemble similar items together and remove any extra magnets or papers that aren't needed. You can also polish the exterior if necessary.
4. Wash the Kitchen Sink
You might think that a place where you wash your clothes every day wouldn't require such thorough cleaning, but grime and food crumbs can make your kitchen sink look anything but new.
For a stainless steel sink, start with dampening the sink. Proceed with coating the surface evenly using bicarbonate of soda and scrubbing the surface with an old toothbrush. Rinse with cold water.
You can wash a ceramic sink using dishwashing liquid, warm water, and a clean cloth. Rinse, and Spray a bleach-based cleanser over the sink. Let it sit for a few minutes before rinsing again with cold water, followed by frozen citrus rinds.
5. Wipe Clean the Dishwasher
Wipe the dishwasher on the outside and inside for a thorough clean.
Then, run a cycle with a cup of vinegar in the dishwasher to let it freshen and deodorize. Fill a big cup or cereal bowl with a cup or two of white vinegar and place it upright on the top or bottom rack of your dishwasher. Then, without using any detergent, run the dishwasher.
Vinegar can be used to remove stains, break up build-up, and neutralize odors. (To break up any hard water residue, perform a cycle with a dishwasher/de-scaling pod).
6. Mop Kitchen Floors
After you've cleaned your cupboards, appliances, sink, and dishwasher, there's one place left to clean, and that's the kitchen floor. The method you choose to clean it will depend on the type of floor you have.
Here are two common floor types and instructions on how to clean them.
Hardwood Floor
Start by vacuuming the floor to ensure there is no debris. Then, clean the floor with a specific wood cleaning product and dilute it according to the manufacturer's instructions. Soak the solution in a rag mop or sponge, and wring it out until it is only slightly damp.
Proceed with mopping the floor, making sure no puddles in the solution are left behind. Rinse the floor if the cleaning product specifies it. Wipe up any excess liquid to avoid damaging the floor.
Tiled Floor
Vacuum the floor to ensure the floor is free of debris. Spray the floor using white vinegar. Mop the floor with a damp mop. If the stain persists, use a steam cleaner, paying special attention to the grouts.
By regularly cleaning your kitchen, you can avoid arduous deep cleaning procedures. Refer to this deep cleaning guide, and your kitchen will always be in fine shape.
If you don't like doing time-consuming cleaning chores, leave it to a professional house cleaning service like HomePlus!
When it comes to our house cleaning service in Dracut, MA, we have all the tools and products necessary to deep clean your kitchen and make it sparkle! Our experienced, trained cleaners perform a detailed cleaning procedure to remove dust, dirt, and grime from every corner of your house!
For booking, click here!
---