How to Clean Your Balcony/Terrace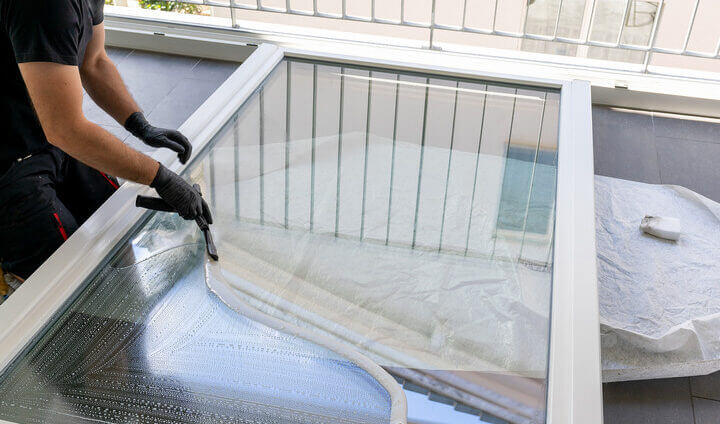 A terrace or a balcony is excellent for a peaceful retreat from today's hectic world. You may soak up the sunlight, breathe in some fresh air, and gaze out at the metropolis. However, because the balcony serves as a haven for dust and bird feces, washing it is the ultimate method to keep pests at bay.
Terrace cleaning is therefore required to maintain your outside area as pleasant as possible. While it may not require as frequent maintenance as inside, it should be done fortnightly or at least monthly to maintain it.
This post will show you how to clean your balcony/terrace.
Clear Everything off Your Balcony
Starting with a blank space allows you to clean more deeply. Take everything indoors or put it out on the lawn. If you have any heavy things, get the assistance of a buddy to avoid injuring yourself.
Furthermore, be careful to relocate any potted plants because the cleaning agents may harm them. You should clean any furniture when taking it indoors to keep your house tidy.
Clean Balcony Doors and Ceiling
You must clean your patio door and ceiling first. Based on the material of your balcony door and ceiling, you can follow the proper ways to clean your balcony doors.
Of course, the ceiling of the terrace should not get as filthy as the floor. You can go without washing it. If not, a mild cleanser and a long-handled outside brush will suffice.
Sweep Loose Dust and Debris
You may start tidying your terrace once all things have been removed from it. It begins with sweeping the surfaces. Dust, leaves, and debris might be hard to detect, but for a spotless balcony, the surfaces and floor need to be cleaned.
Furthermore, if you've not cleaned the ground of your balcony in a while, there might be a large amount of dust and trash to sweep. Sweep carefully and multiple times if necessary.
Clean the Tiles and Metal Floor
Scrubbing the tiles is fairly easy since it requires the least maintenance. To clean the metal floors, follow the procedures below:
In a mop bucket, combine a multi-surface cleanser or a light detergent with water.
Mop the floor from the farthest corner inward, working your way to the door.
If your tiles are exceptionally unclean, try a grout cleaner. You'll have to mop again.
Wait for the floor to dry after hosing it down.
Now, you can clean your floors, but what can you do when there is a wooden floor?
How To Clean the Wooden Floors
When it relates to wooden flooring, you need to be more cautious. Harsh chemicals have the potential to destroy any varnish on the wood.
Alternatively, you may make your effective floor cleaner with a few common home products. For a typical mop bucket of water, combine the following:
A quarter cup of dishwashing liquid.
One-quarter white vinegar.
A few drops of baby oil are a good conditioner for wood and give it a soft gloss.
You can also Hire HomePlus house cleaning services in Carlisle, MA, to clean your balcony safely, including floor cleaning.
Clean the Balcony Windows
A large quantity of grime can build on your windows over time, just like it does on the balcony flooring. The numerous stains and smudges on your windows are frequently fairly noticeable. This not only looks unappealing, but the germs attached to your windows and frames may become an unpleasant health danger.
Scrubbing all of the balcony windows with a sponge is an efficient way to clean them. Scrubbing is required because it removes apparent filth. You may also use a hose to spray your window glass before fully cleaning it.
Remove Rust Stains with Laundry Detergent
Choose a detergent that contains baking soda for increased cleaning power. Apply the detergent to the rust stain with a stiff-bristled brush. Allow the detergent to sit on the stain for around an hour after rubbing it in.
Meanwhile, mist the solution with water to keep it from drying out. Then, using a wire brush, scrape the stain again and rinse it with water. You may need to repeat this process 2-3 times to thoroughly remove the stain, and then last, power washes the balcony.
Hire the Cleaning Service
It is vital to maintain your balcony if you wish to spend your time there in a relaxed way. Follow all the methods outlined in the post, and you will have a well-maintained balcony to spend quality time with your loved ones.
If you do not have the time to maintain your terrace, you may always hire a reputable cleaning service. HomePlus house cleaning services in Carlisle, MA, are equipped with the necessary equipment and supplies and will complete the work for you.
Book an appointment in just 60 seconds.
---