How to Clean Stuffed Animals and Toys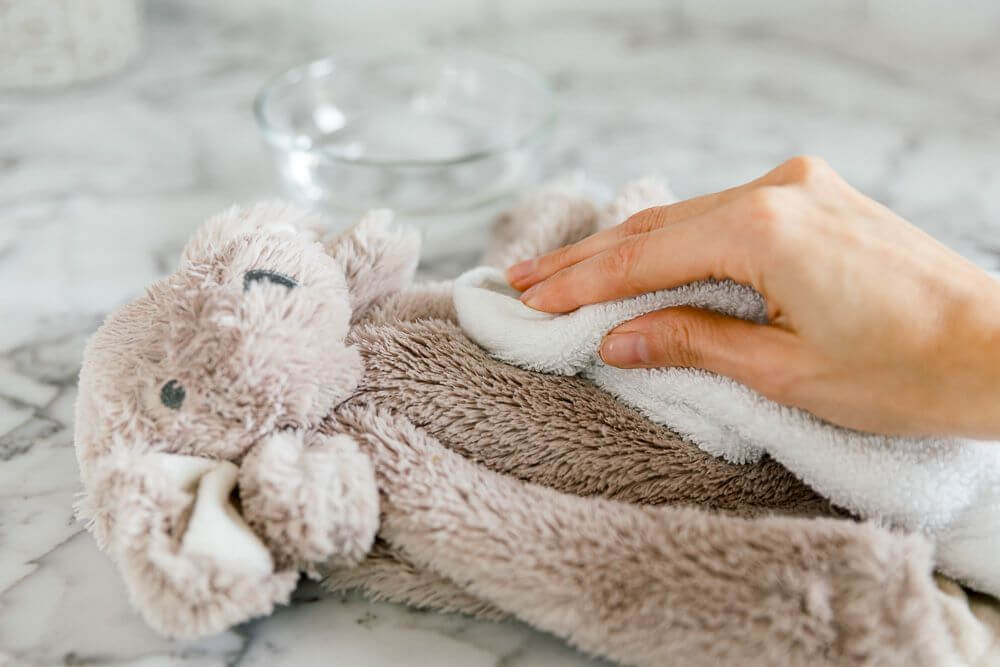 Children often build a special attachment with their stuffed animals and toys. They become part of your child's life, and therefore, keeping their cleanliness in check becomes as important as your child's!
Stuffed animals are created from various porous fabrics that trap dirt and dust between the fibers. In babies and young children who frequently hug these toys near their bodies and faces, this might cause allergies, rashes, and respiratory difficulties. Worse, some (or many) children have a habit of putting their toys in their mouths, making it even more crucial to keep their stuffed animals clean (and to keep an eye on your children!)
Today, we present an easy, step-by-step guide on thoroughly cleaning soft toys. Let's get started!
What Should You Keep in Mind Before Washing Stuffed Animals and Toys?
Determining the appropriate cleaning method is essential for cleaning stuffed animals' safety. When cleaning specific types of stuffed animals, you may need to be especially cautious of the material and other characteristics such as embellishments like buttons and beads or electronic fittings for music and lights.
Check the toy's label for particular washing directions before using any cleaning method on your children's plush animals. If the toy isn't suited for washing in a machine or soaking in water, don't worry; we've got you covered. Read on!
5 Steps For Cleaning Stuffed Animals and Toys
These five steps will help clean your child's plush toys thoroughly.
1. Vacuum
You'll need an upholstery attachment and a low suction power for this. If you're using a traditional vacuum cleaner, make it a two-person job: one person keeps the vacuum head in place while the other moves the teddy over the material to vacuum different areas.
Using a handheld vacuum cleaner is more reliable, especially if you're working alone. While vacuuming every inch of the plush toy is crucial, avoid running over glued-on embellishments like button eyes, beads, and noses.
2. Prepare The Cleaning Solution
Make a cleaning solution in a bowl with room temperature water and any baby-safe cleaning product, such as mild laundry soap or baby shampoo. Since you wouldn't want the material to get too soapy, make a moderate cleanser (this will be harder to rinse off without the help of running water or a soaking method). Half a teaspoon of cleaning product in 2 cups of water is sufficient in most cases.
HomePlus house cleaning services in Groton, MA, prioritize using the right product because we care about keeping your house looking tidy and pleasant. Many low-cost cleaners are diluted and leave behind residue, but the concentrated cleaners we use are far more effective. If you prefer that we utilize our flexible green cleaning products, we'll gladly accommodate your wishes.
3. Clean Gently
Dip a clean, soft white cloth in the cleaning solution and wring it out thoroughly so that it is damp but not dripping wet. Start at the top (the head) and work your way down to clean the soft toy thoroughly.
Keep an eye on the cloth as dirt is transferred; rinse it as necessary or switch to a new side of the cloth and keep going. Excess cleaner and extra elbow grease may be required for removing particularly nasty spots, but make sure you avoid soaking the material at all costs.
If stubborn stains do not come out in one go, allow the material to dry completely, and again proceed with gently scrubbing with a damp cloth.
Move to the next step once you see that no more dirt is being transferred to the cloth.
4. Wipe Away
To eliminate all traces of the cleaning solution, soak a fresh cloth or towel (ideally white to avoid color transfer), wring it completely, and wipe it over the stuffed animal. This may take several wipes with intervals of rinsing the cloth until the cleaner is gone.
Remember to use a damp cloth/towel rather than one that is dripping wet.
5. Dry
The final and most straightforward step is to dry the stuffed toy after cleaning it by hand. While air drying for many hours or overnight is the best option, if your child needs to play with his or her favorite plush toy right away, you can use a hairdryer to speed up the drying process. Use a low-heat setting and keep the device at a distance from the stuffed toy!
Need Professional Help?
Are you looking for a solution to your cleaning woes? Getting a professional cleaning service like HomePlus might help!
Our house cleaning service in Groton, MA, has a solid reputation for handling all types of cleaning projects, regardless of their size. Our maids and cleaners are accessible all day to provide you with as much flexibility as possible. We believe in leaving no stone unturned while performing a cleaning job. Customer satisfaction is our top priority.
For booking, click here!
---