How to Clean High-Traffic Areas in the Office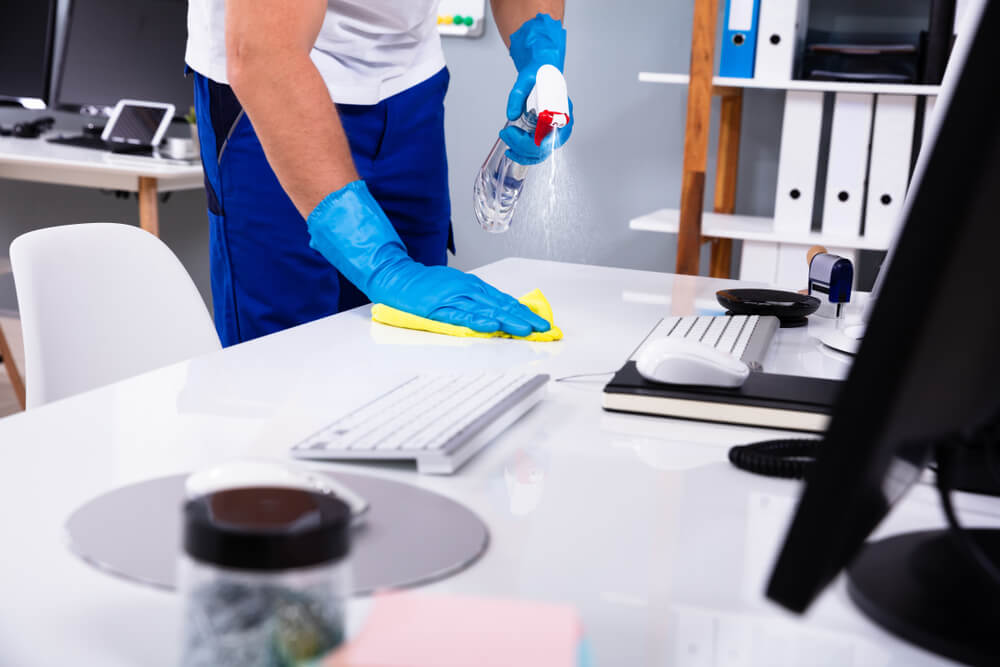 Companies may face heavy foot traffic throughout the day. Areas with a lot of foot traffic and activity appear to be more prone to mud and mishaps.
It doesn't take long for dirt, mud, and other objects to be tracked inside, damaging your floors. Hard-surface floors might look worn-out and scratched, while carpets can appear matted and unclean. In addition to making flooring appear dingy, debris accumulation can result in lasting damage, such as scratches, scuffs, and stains, which could harm the reputation of your business.
Here are some cleaning tips from the experts at HomePlus that will keep high-traffic areas in your office looking at their best!
Keep Cleanliness in Mind When Designing Facility
When it's possible, take cleanliness into account when planning your facilities. For example, consider placing a hard surface at the building's entryway and switch to carpet once inside.
Entrances aren't the only areas that can benefit from installing hard surfaces. You can also install hard surfaces in the following areas.
Locker rooms
Breaking rooms
Dressing rooms
Bathroom
Recycling stations
Give people a place to hang their drenched coats and put their muddy, wet, or otherwise dirty shoes and boots.
Also, ensure you have a designated cleaning closet with all the necessary cleaning supplies and that employees know where this closet is.
If you intend to free up the space occupied by your cleaning supplies, hire our commercial cleaning service in Andover, MA. We will bring all the required tools and products for cleaning your facility so that you don't have to worry about them pilling at your facility and taking too much space!
Install Mats and Rags
Putting mats and rugs in high-traffic areas can aid in preventing floor damage in the following ways:
Help prevent the facility from becoming covered in excessive mud, grime, and puddles.
Defend against dirt, sand, snow, salt, and other materials' scuffs and scratches.
Allow employees and customers to wipe their shoes off before entering the office.
Make sure that mats and rugs are laid down securely and flatly. Mats that are slack or warped can be a tripping hazard.
Look for rugs or mats that can be fasted to the floor for a tight fit if you don't already have them close to your entryways and other high-traffic locations. Mats and rugs should also be cleaned or replaced regularly, at least once each month (depending on weekly traffic).
Ensure Protection Against Furniture
Moving or sliding furniture over your floor can also harm it, besides foot traffic.
This is why we recommend adding floor protection to your facility's furniture. Using these floor protection measures can prevent sliding or moving furniture from damaging your floor.
Make a Code of Conduct for Cleaning
The goal here is to determine who is in charge of removing messes from your facilities.
Although it may seem fairly straightforward, explicitly outlining expectations from employees can have a significant impact.
You can establish rules regarding where food should be eaten and whether it is permitted outside of the break area. If you don't have vendors come in to clean frequently, implement a cleaning plan so that employees can alternate cleaning specific areas if you don't have vendors come in to clean frequently.
Regular Cleaning
Routine cleaning should be done at least once daily to ensure your floors' longevity. Cleaning may be required every few hours in high-traffic locations like lobbies and entrances, particularly during rainy weather.
Keep in mind that different office flooring options will require different cleaning procedures. Hard surfaces like hardwood or vinyl flooring should be swept every few hours to eliminate dirt and debris. Hard floors might need to be mopped after office hours to clean and sterilize the area.
On the other hand, carpets in high-traffic areas should be vacuumed at least once every day to effectively remove embedded debris. Make sure the type of carpet in your facility can withstand high foot traffic since carpets trap more dirt than wood, vinyl, or tile flooring.
Get a Deep Clean Once a Year
While routine cleaning can help keep your floors in good condition, we still recommend deep cleaning at least once a year.
Here are some benefits of yearly deep cleanings for your office's floors:
Prolongs the life of your floors
Restore your flooring to a new-like state.
Helps in maintaining your floors clean and enhancing their appearance.
Let experts at HomePlus make your floors sparkle. Our commercial cleaning services in Andover, MA, include professional guidance on the most effective floor cleaning techniques, routine maintenance schedules to freshen your floors, and specific cleanliness protocols to clean a wide range of flooring.
We offer a customized cleaning program for our clients. You can trust us to fit your company's needs with our cutting-edge technology, unique tools, and years of experience.
For booking, click here!
---