The Ultimate Guide to Cleaning Your Bed and Mattress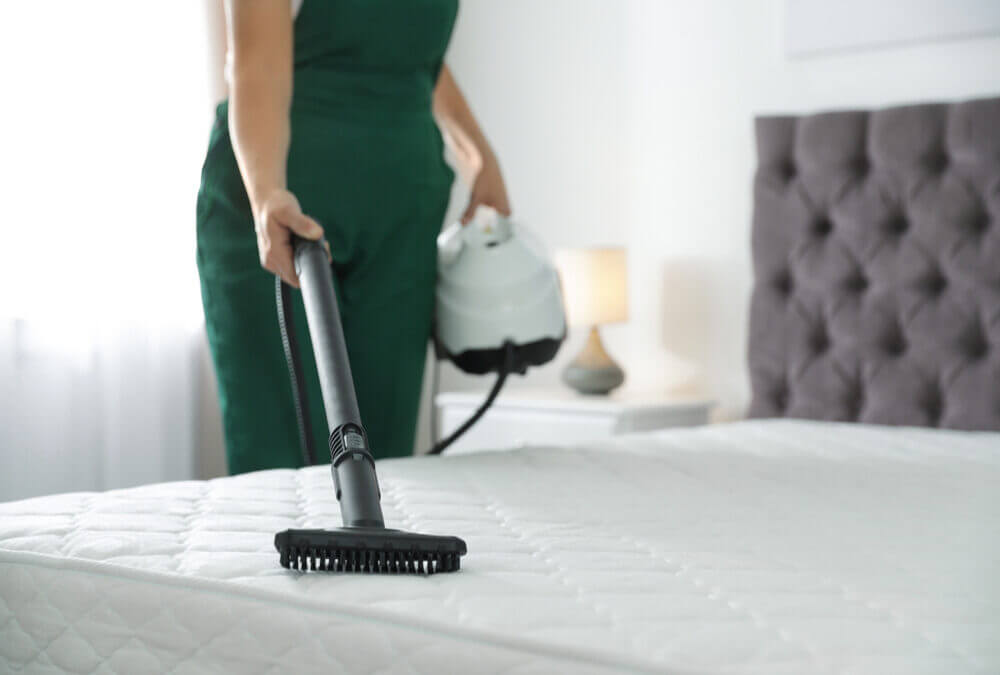 Since beds and mattresses are not cheap things to replace, it's better to ensure that they last for a good time. It essentially involves understanding how to maintain a bed and mattress.
Your bed and mattresses may collect dust mites, dirt, and other particles. So they should be cleaned regularly—especially if you have asthma or allergy, have animals, or are a nighttime snacker. So, deep cleaning will assist in maintaining your sleeping experience fresh and sanitary.
This post will provide you with the ultimate guide to cleaning your bed and mattress. Let's get started.
Vacuum the Dust
Dust mites are microscopic insect-like bugs that eat your skin cells at nighttime. The typical mattress holds several thousand dust mites since you lose millions of cells per week.
Using the upholstery attachment on your vacuum cleaner, run across the whole top of a mattress, along with the borders. Pay close attention to joints and use the crevices tool to remove any concealed debris or dust.
Wash Pillows and Coverings
While you start clearing the mattress, take the linens, pillows, and mattress sheets and launder everything in the washer. This is vital since it kills any viruses or germs that could be present on your bedding. Dust mites may be eliminated by washing all linen in hot water. You might be able to clean your pillows, too, based on the kind of pillows you have.
You can hire the HomePlus house cleaning services in Newton, MA, for thorough cleaning of your mattress and the bed. In addition, we also provide general house cleaning services.
Dry the Mattress
Place the mattress outdoors for some hours to allow it to air out. If you can't accomplish this or can't depend on sunny days, simply place your mattress against an air vent or window. Ensure to obtain some sunshine on both sides.
If you are unable to expose your mattress to sunlight and natural air, baking soda is the next greatest thing. Spread a coating on the whole surface of the mattress over several hours. It will neutralize the acidity and remove any residual wetness.
Clean the Blood Stains
Always utilize cold water to eliminate blood stains from a mattress. If someone detects the stained mattress immediately, the procedure described below might be the best option for you.
Combine cold water and dish soap or mild laundry detergent.
Soak a towel or sponge in this mixture.
Apply pressure to the affected spot till the stain disappears.
To erase old blood stains, apply baking soda or vanish.
Cleaning the Urine Stains
You might be interested in learning how to thoroughly clean a mattress with pee stains. But it is easy. Just follow the below steps.
Combine moderate clothes soap or dish detergent and lukewarm water.
For cleanliness, use moist paper towels to massage them into the spot and replace the towel every several minutes.
Continue rubbing at the stain so that it is gone. Because this is a heavier stain, this will take much longer to remove. Spot-wash the stains on your mattress.
Clean with Baking Soda
Baking soda and vinegar are common household components that may be used to produce a simple DIY mattress cleanser. Carefully pour little vinegar into a plastic spray container and softly sprinkle the mattress surface to renew it. Don't be concerned; the baking soda will capture the odor. Wipe the area with a dry cloth or paper towel after ten minutes.
Next, sprinkle baking soda on the mattress and let it soak for several hours in a well-ventilated area. Baking soda will soak the vinegar as well as any stains. Vacuum the soda from a mattress and make the bed when sleeping for the night.
Clean the Bed
When you thoroughly clean the mattress, you should also wipe down your bed or couch bottom. Vacuum and sweep your bed frame to remove any dust or dirt that has accumulated. Pay special focus to the slats and the location of the mattress.
Dust the bed with a soft microfiber cloth and apply some cleaning agent to it and gently rub it, then wipe the bed with a second cloth and then let it dry. Use fans and a ventilation system for immediate drying, and also open the windows when doing cleaning work.
Cleaning the Leather and Upholstered Bed
Before you proceed with cleaning an upholstered bed, treat stains using liquid solutions like soap, baking soda, or lime juice to remove the issue spot.
To prevent absorption and soaking, clean leather bed frames using moist towels and a little soap. Simply clean the surface with a soft cloth and buff it to dry.
Hire the Professional Cleaners
Professional cleaning services clean your whole house, including laundry, windows cleaning, and carpet cleaning. You can hire the services of HomePlus house cleaners in Newton, MA.
Contact us by clicking here.
---