The Ultimate Guide to Cleaning the Outside of Your House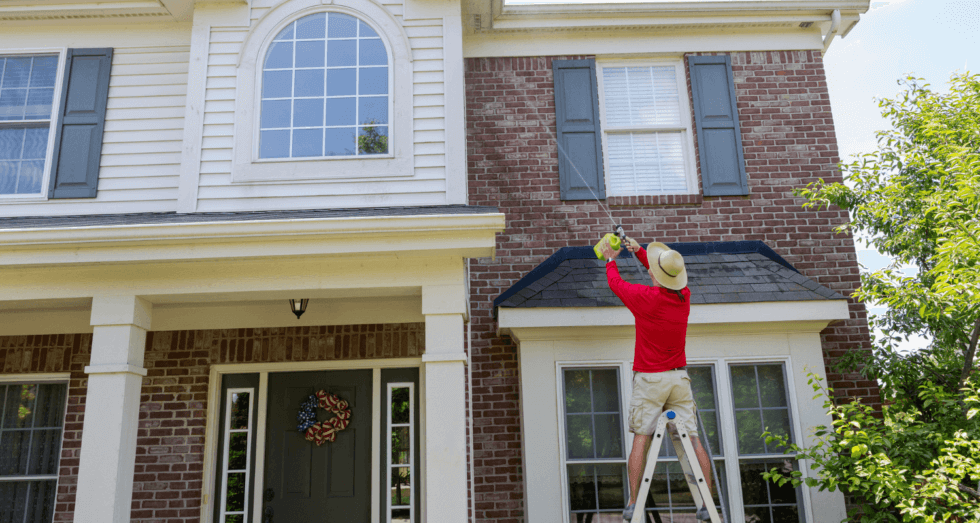 Although you know how to maintain the rooms and inside of your home, addressing the outside might seem daunting if you're unfamiliar with the procedure. But this isn't just about having the "cutest house on the block." Maintaining your exterior, doors, roof, windows, and porch clean may help to ensure the safety, stability, and, yes, the beauty of your house for many years.
This ultimate step-by-step guide will teach you how to clean the outside of your house from top to bottom.
Clean the Roof
Beginning at the top of your house helps any dust and other things to fall down. It can be easily cleaned up with a broom afterwards.
We recommend hiring a roof inspector before you begin, especially if you haven't had it inspected in over a year. Algae, mold, and fungus are known to grow on and beneath certain shingles. Follow the below steps:
When erecting and using your ladder, always observe all safety precautions.
Check for any missing or damaged stones and replace them.
Start cleaning the roof when everything is strong and secure by blowing off leaves, clearing loose debris, and so on.
When washing your roof, never use high-pressure water since it will dislodge loose stones.
If you are having difficulty owing to the height and intricacy of this procedure, or if you prefer to engage specialists, HomePlus cleaning services in Acton, MA, can help you with any cleaning jobs.
Gutters
Gutter cleaning is an important element of house upkeep. Downspouts and gutters that are clogged or backed up can cause damage to your roof, fascia, soffits, and siding.
First, gather the necessary tools:
a ladder
a hose
a bucket
gloves
and a scoop or shovel.
Begin by raking leaves, twigs, and branches away with your hands. Then, using your trowel or shovel, scrape the muck from the bottom. Fishing garbage out from around gutter fasteners may be a nuisance while scooping, so you may find that your hands are the finest tool for the task here.
Next, flush your gutters with water using the spray nozzle on your garden hose. To begin, choose an end opposite your downspout.
Finally, turn on your hose and direct the water flow into the downspouts. Climb down the stairs and pump your tube up the downspout from the ground surface if you see any obstructions. Any lingering obstruction may necessitate the use of a plumber's snake to clear.
Cleaning Outside Windows
Clean the exterior of your windows with something like a microfiber cloth or brush and an extended pole. Hot water with a few drops of dishwashing detergent should be enough. On the backside of a cloth or sponge, use a solution of one part vinegar to ten pieces of water or a store-bought window cleaner to harder layers of grime and dirt.
Take your time with the window frames and any ornamental items that enclose windows, like outside shutters. Spider webs, as well as other pests, mildew, and algae, love to hide in these spots.
Siding
The main step to cleaning your house exterior is to clean the sides of the house. Follow the guidelines below:
To begin, make your cleaning solution by combining 70% water and 30% white vinegar. If your siding is very unclean, consider mixing in some household bleach for added mold-fighting potency. There are also various store-bought options available.
Cover everything you wish to keep safe and get rid of everything that could stand in the path of your hose and ladder.
Close all windows and ducts and spray the exterior siding with water to prepare it for cleaning.
Next, use a pump sprayer to apply your cleanser and a soft bristle brush to eliminate dirt and mold from rough surfaces.
Spruce Up the Porch
Begin cleaning your porch by removing any furniture, dog toys, and yard tools to allow for effective sweeping and debris removal.
Based on the substance of your porch, use a soft-bristled brush and a cleansing product of your choosing. Basic cleaners, for example. Use an oxygen-bleach cleaner to remove algae and mold.
Driveway
Whether your driveway is brick pavement, asphalt, or shale, small weeds will always burst through the underlining.
The most effective technique to deal with this issue is to jet clean the whole driveway, eliminating the weeds from the root.
Next, use a spray that will destroy any residual weed offshoots.
Need Professional Help?
Some exterior home cleaning jobs are simple and inexpensive to do on your own, while others are not. When it comes to great heights, electricity, or structural issues, it's better to call in specialists.
Hiring the pros of HomePlus home cleaners in Acton, MA is the ideal choice for you if you have any trouble doing these tasks yourself.
Feel free to contact us and request a quote by clicking the link!
---