The Ultimate Christmas Cleaning Guide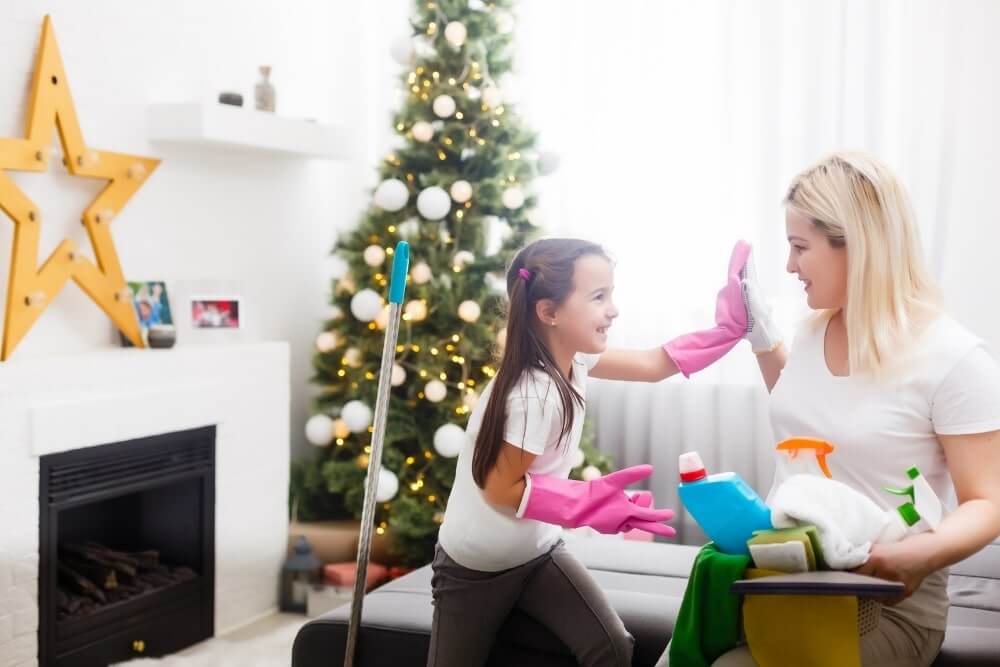 As much as we love this time of year, it can be tough to keep up with the demands of the holiday season. Amid entertaining guests and attendingparties, it's hard enough to keep your own home clean, let alone have time to help clean others.
That's why we've put together a Christmas cleaning guide. So, read our ultimate Christmas cleaning guide if you want a jump start on your New Year's resolutions or want to enjoy a stress-free holiday season.
What Needs To Be Done
A little organization goes a long way to preparing your home for the holidays. One of the best ways to get organized is to make a cleaning list. First of all, lists down the total rooms in your house. Then, next to each room, write down what needs to be done in that space.
For example, you might need to dust the furniture and vacuum the rug in the living room. You might need to scrub the counters and mop the floor in the kitchen. Once you have your complete list, take some time to prioritize. What needs to be done first? What can wait until later?
Arrange Things in the House
Here are a few tips on how to arrange things in your house to make it more presentable for holiday guests:
Pick up clutter around the house and put it away in its proper place
Dust all surfaces, including furniture, walls, ceilings, and floors.
Vacuum all carpets and rugs to remove any dirt or debris.
If you have any pets, ensure their living quarters are clean and free of pet hair or waste.
Take out the trash regularly and keep garbage cans covered.
Already got enough on your plate during this busiest time. Well, worry not, as HomePlus has you covered with its wide range of services, including Top to Bottom house cleaning services in BELMONT, MA.
Cleaning Of Carpets and Furniture
Carpets and furniture are two of the most important things to clean during the holiday season. They add to the overall look of your home and can also be a breeding ground for bacteria and other allergens.
Here are some tips on how to clean carpets and furniture:
Vacuuming is the best way to remove dirt, dust, and other debris from carpets and furniture. Be sure to vacuum all areas, especially those that are high traffic.
Spills can quickly lead to stains, so cleaning them up as soon as possible is important. Use a mild soap or cleaner and blot the fall with a clean cloth until it's gone.
Deep cleaning of carpets and furniture should be done at least once a year. This will help remove any build-up of dirt, dust, and allergens that regular vacuuming can't reach.
Taking Care of Washrooms
No one wants to deal with a dirty washroom, especially during the holiday season. Here are a few tips on how to keep your bathrooms clean and presentable:
Start by decluttering the countertops and removing any items that don't belong.
Wipe down all surfaces, including the sink, countertops, toilet, and bathtub/shower.
Clean the toilets, both inside and out. Be sure to brush the bowl and scrub under the rim.
Sweep and mop the floors. Don't forget to pay attention to those hard-to-reach areas like under the sink and behind the toilet.
Finally, add a pleasant scent by spraying an air freshener or lighting a scented candle.
Electrical Appliances Cleaning
The Christmas season is upon us, so it's time to start getting our homes ready for guests. Part of that preparation is ensuring all our electrical appliances are clean, especially fridges and Ovens. Here is a step-by-step guide to cleaning your electrical appliances:
Unplug the device from the outlet.
Use a soft, damp cloth to wipe down the appliance's exterior. It would be best if you took particular care that water does not go inside the appliances while cleaning.
Use a vacuum with a soft brush attachment to clean dust and dirt from the appliance's interior. Again, be careful not to get water inside the device.
Wipe down any cords or plugs with a damp cloth.
Once everything is clean, plug the appliance into the outlet, and you're done!
Moping Floors and Cleaning Hard Surfaces
Assuming you don't want to do anything too strenuous before Christmas Day, focus on giving your home a good once over. Start with mopping all the floors (hardwood, tile, vinyl, etc.) and cleaning any hard surfaces (countertops, appliances, toilets, showers, etc.).
These areas tend to collect the most dirt and dust throughout the year, so a good cleaning will make a big difference in how your home looks and feels.
Short On Time?
It is often hard for an individual or family to take care of many things during the holiday season, from throwing and attending parties and gatherings to managing Christmas decorations.
The basic reason behind the holiday season is to get rest, spend some time with friends and loved ones, and not to use it all to clean the house, which can be quite hectic. Well, HomePlus has gotten you covered with its house cleaning services.
Click here to get a quote if you want your house clean for Christmas.
---