The Right Way to Clean Your TV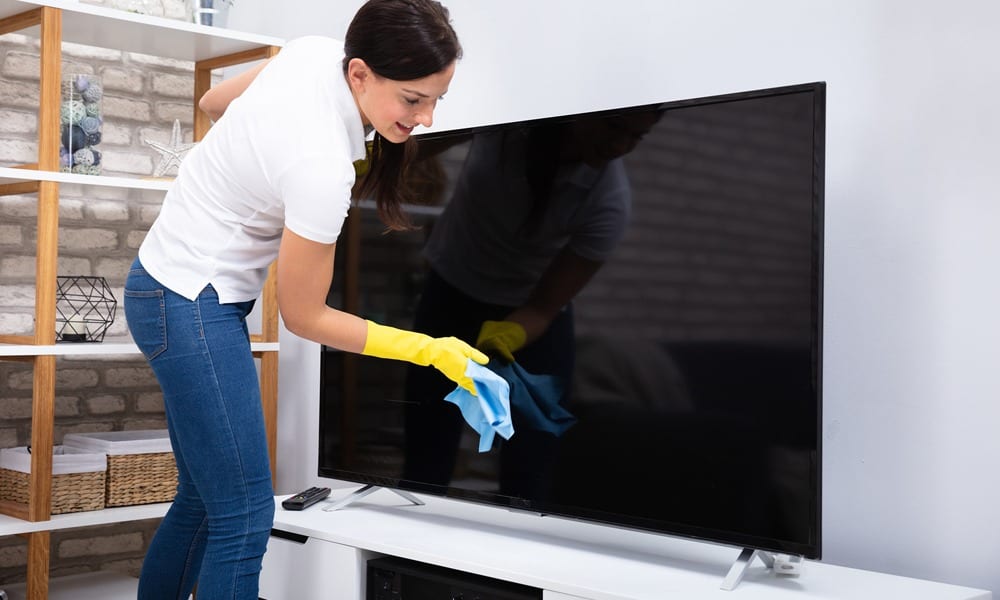 TV is one of the last items on your cleaning to-do list. However, the importance of both a clean and pristine display isn't something to dismiss.
Dirt, dust, and fingerprints gather on our televisions, and the buildup is so gradual that it is difficult to see with the naked eye. That is, until you spend several minutes cleaning your TV and enjoy a significantly more pleasurable viewing experience.
In this post, you will learn the right way to clean your TV. Let's get started.
Turn the TV off and Unplug
Disconnect your television before you start the cleaning process. This prevents sudden electric shock, and switching off the television screen allows you to inspect it thoroughly for concerns like dust and filth.
Move it aside from a light source to view dust and fingerprints. A user manual is included with your LED TV set for a purpose. The handbook is intended to assist you through the operation of the gadget. When cleaning your set, make sure to follow the manufacturer's instructions. Any other method may cause irreversible harm to the TV.
Dust the Screen
Dry dusting your television is an important stage in the cleaning procedure. Cleaning dried debris will prevent you from accidentally scratching the screen by wiping a harsh piece of dirt or buildup into it. Dust the whole screen with a microfiber or smooth cloth.
If necessary, flip the towel over to eliminate all dust particles, pet hair, as well as other loose particles. Wipe off the loudspeakers and wires with a soft microfiber too. Also, there is another option to clean your TV by hiring the HomePlus house cleaners in Lowell, MA. Professional cleaners come in with the best tools and expertise.
Use Screen-Safe Cleaner
Spray a tiny quantity of screen-friendly cleaning agent onto a soft cloth (never directly into the display) and wipe away the TV in a systematic, back-and-forth manner.
Repeat as needed to eliminate greasy spots or fingerprints. Most folks overlook wiping off the top and bottom of the TV, so don't miss that.
Note: Make sure that the cleaning agent is appropriate for the sort of screen you are cleaning.
Deal with Stubborn Spots
Avoid spraying strong chemicals straight up on a TV screen because the liquid may seep into the screen and cause serious damage. Spritz the cleaning solution onto the soft cloth and gently massage the screen.
Take the last pass when you've finished using your preferred cleaner. Afterward, use a soft cloth that has been gently wet with water to clean away any leftovers. If you utilize a fluid cleanup spray, turn off your TV for a few moments once you complete the task to allow for sufficient drying duration.
Cleaning a Tube TV
Cleaning a Tube TV screen is significantly similar to cleaning an LED TV screen. Tube Screens are much more durable and can bear pressure, but they must be handled with care.
A microfiber cleaning dipped in water can be utilized. Don't spray straight on the screen because this could harm it. Follow the same rotating cleaning technique you'd use on an LED TV screen.
Cleaning Your TV Remote Control
Follow these steps to clean the TV remote.
First, detach the cells or batteries in the remote. This will make sufficient space for cleaning the internal casing.
Secondly, to clear dust, tap the TV remote on a solid floor such as a table. To loosen trash lodged in nooks, do this carefully and multiple times.
Add a solution on a cloth or sponge and try to clean the body. Disinfectant is required since our hands contain bacteria that pass to the remote whenever we use it.
Dust then collects around and all over corners and tight areas. Use a chopstick to remove any material that has accumulated.
Finally, give it 10-15 mins to let it dry before putting the cells or batteries back in the case.
Cleaning Game Console
Use these strategies to keep your gaming system working properly for longer, even if you have a PlayStation or Xbox:
Dust the console and its surroundings.
Wipe off the console with a lint-free cloth and a bleach-free cleaner. Be careful, and do not allow the cleaning solution into any apertures.
Wipe off your controllers and gaming equipment with any of the antibacterial wipes. Stop using any wires or buttons throughout this procedure.
To dislodge the dust accumulation within the console, softly spray it with pressurized air.
Get Help from Cleaners
Your TV is a sensitive device; and you should be careful with it because TVs are expensive. You should call a professional cleaner if you are unsure on whether you can clean it properly.
Follow the above steps to clean your TV, and in case of any problem when cleaning, get help from a professional cleaning company. Hire the HomePlus house cleaners in Lowell, MA, to clean your TV and other gadgets.
Contact us by clicking here.
---