How to Steam Clean a Carpet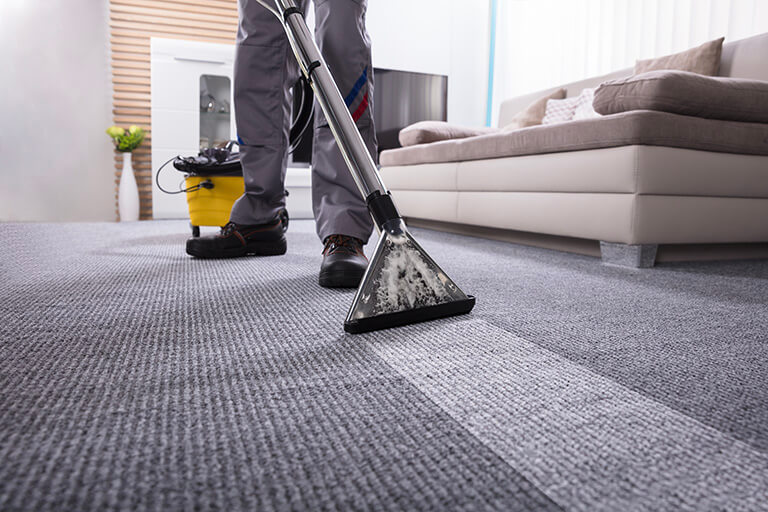 Keeping the carpets in your home clean is an essential part of keeping a clean and healthy home.
Existing respiratory or allergic diseases can be made worse by the accumulation of dirt, dust, and allergens in the fibers of carpets over time. When it comes to thorough cleaning of carpets, one of the most effective procedures is steam cleaning.
In this article, you will learn how to steam clean carpets and provide you with all of the resources that you'll require to do an effective job. Let's begin!
What is Steam Cleaning
In reality, the concept of cleaning with steam is misleading. Steam is produced when the water temperature hits approximately 202 degrees Fahrenheit or 100 degrees Celsius.
This kind of heat can cause the adhesive that holds the carpet down to melt and damage the adhesive that holds the subflooring down. The process of hot water extraction is commonly referred to as "Steam cleaning" by cleaning agencies.
This cleaning method utilizes a combination of hot water and the cleaning solution, which is then injected into the carpet fibers under intense pressure. In the final step, the soil is extracted using a robust hoover.
You can also hire HomePlus house cleaning services in Concord, MA, to properly clean your carpet and other items.
Important Steps for Steam Cleaning a Carpet
It is essential to maintain the cleanliness and order of your carpets if you want to have a healthy and hygienic house.
Dirt, dust, and other allergens can accumulate in the fibers of your carpet over time, which can contribute to a variety of health issues, including respiratory problems and allergies.
One of the most efficient and effective ways to fully clean your carpets is to use steam cleaning. If you follow the methods that are listed below, you will have no trouble steam cleaning the carpet in your home.
Shift the Furniture
If you have a steam cleaner for carpets and wish to clean the floors, you should move any large pieces of furniture out of the way.
The carpet may be steam cleaned to swiftly remove stains and grime, and moving the furniture will preserve the wood and other decors from becoming damaged in the process.
Once the furniture has been moved out of the way, you may clean the tile and counters in the bathroom and kitchen with a portable steam cleaner.
Get the Proper Tools for the Job
The proper tools are required for efficient carpet steam cleaning. Steam cleaners are available for purchase or rental at most hardware stores and home improvement centers.
Pick a steam cleaner with enough muscle to get the job done but not so much that it ruins your carpet.
Combine the Cleaning Agents
The subsequent stage is the preparation of the cleaning solution. You have the option of utilizing the cleaning solution that is included with your steam cleaner, or you may make your own cleaning solution by mixing equal parts white vinegar and water.
Try putting a few drops of essential oil, such as lavender or tea tree oil, on your carpet in order to make it smell like you just got it out of the cleaners. This will give the impression that the carpet was recently cleaned.
Clean the Carpet Using Steam
You can now begin steam cleaning your carpets after you have prepped the workspace, selected the appropriate tools, and mixed the cleaning solution.
Start by following the steam cleaner's directions for filling and using the cleaning solution. Be thorough and work on small pieces of the carpet to avoid missing any spots.
Helpful Steam Cleaning Tips
When shampooing or steam cleaning your carpets, it is important to keep the following advice in mind for the best possible results.
Use hot water: Hot water is more effective than cold water at dissolving grime and stains, but avoid using boiling water as it can damage the adhesives that keep the carpet fibers in place.
Use the right amount of cleaning solution: Using too much or too little cleaning solution will leave residue or not clean the carpet properly, even with homemade solutions, so measure carefully.
Allow the carpet to dry completely: When you walk on a damp carpet, you risk damaging the fibers and creating new stains.
Don't over-saturate the carpet: To prevent mold and mildew, use minimal water and cleaning solution when steam cleaning to avoid oversaturating the carpet and trapping moisture in the padding.
How Frequently Do You Need to Have Your Carpets Cleaned with Steam
If you can only manage to do this once a year, hiring professional house cleaners in Concord, MA, to perform a thorough carpet cleaning is still better than doing nothing.
This way, the sanitary state of your carpets can be maintained by giving them a thorough washing and then disinfecting them with steam.
The steam cleaning method is effective at removing dirt and grime that has accumulated deep within the carpet fibers, leaving your carpets looking and smelling fresh and clean.
Hire Professional Cleaners
Hire HomePlus house cleaning service in Concord, MA, if you're looking for reliable and professional carpet cleaning methods.
Our house cleaners and maid service in Concord, MA, are trained to provide high-quality cleaning services that meet your needs and exceed your expectations. With our steam cleaning method, we can effectively remove dirt, stains, and odors from your carpets, leaving them looking and feeling like new again.
So, if you're busy and don't have time to clean, don't worry; just book our professional cleaning services by clicking here.
---