How to Conserve Water in Your Offices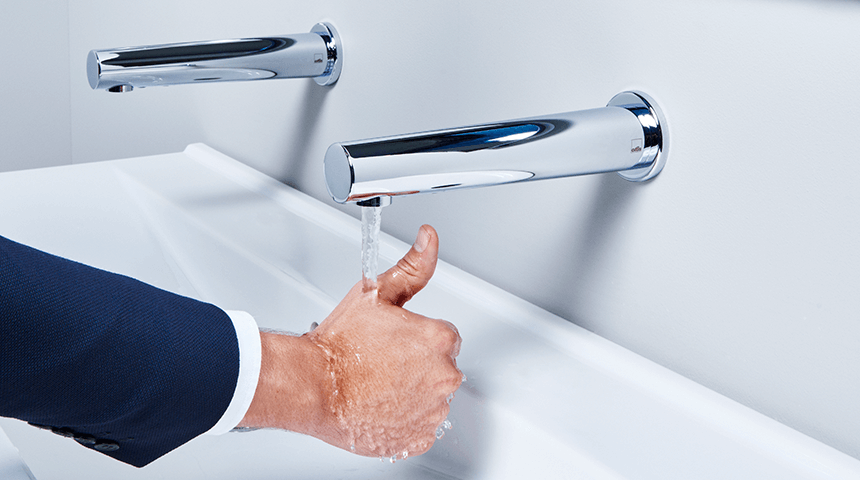 In most small and medium-sized businesses, water usage patterns are similar to those in domestic settings, with most routine water usage going toward toilet flushing, hand washing, and cleaning.
Many individuals are aware that, keeping in line with ecofriendly habits, they should reduce excess water usage. However, they often lack the information or know-how to do so. In reality, pursuing a water conservation endeavor is considerably easier than many assume!
Business owners can considerably reduce their water usage, be more efficient environmental stewards, save money on utility bills, and lessen the need for water system maintenance by focusing on using the following six tips.
1. Monitor Water Consumption and Improve Maintenance
Develop a water conservation strategy in which you work with staff to educate them on the need to conserve water. Create a documented plan for how staff may conserve water, including conservation benchmarks, and check to determine if those criteria are being reached regularly.
One effective way to do this is to use a smart meter. Knowing how much you use and where you use it can help you identify locations where you can save money, correct leaks quickly, and conserve this valuable resource.
You could also consider only on water features only when you expect consumption to be high, as when they are arriving at work or leaving.
2. Install Simple, Everyday Water Conservation Measures
Effective water conservation requires a zero-tolerance approach to waste. Integrate modern technologies in your business's bathrooms and water-intensive regions. Avoid wasting water by investigating greywater harvesting and other green water alternatives to reuse rainwater and recycle wastewater.
Here are a few suggestions:
Install a water-saving gadget in your toilet cistern. Every time you flush the toilet, you can save between one and three liters, depending on the size of your cistern.
Consider installing a Water butt on your roof to collect rainwater. Water butts hold roughly 200 liters of water on average. Rainwater in the yard is not only better for watering your plants, but it also reduces the quantity of treated water you consume.
Install motion sensors on sink taps.
You could also consider turning on water features only when you expect consumption to be high, as when they are arriving at work or leaving.
3. Fix Leaks
Inspect your property regularly for leaks in the interior plumbing. Small leaks, underground leaks, and leaks in inaccessible areas of your property might lie undiscovered for weeks or months. Even small leaks
According to EPA, a leak of 1/32nd of an inch in diameter (about the thickness of a dime) in an irrigation system can waste nearly 6,300 gallons of water every month.
Therefore, promptly fix all leaks and faucets before your property runs out of water.
4. Pay Attention to Water Recycling and Water Reuse
Water recycling can be accomplished in various methods, including installing current grey water systems that recycle wastewater for use in boilers. You can also install cooling units for catching and reusing boiler and steam condensate.
Water reuse is a simple activity that business owners and staff can implement. Water reuse practices can be as simple as irrigating indoor plants with leftover drinking water and wastewater irrigating outdoor green spaces.
5. Sweep
Cleaning jobs that can be done with other equipment should not be done with water. For instance, you can sweep sidewalks and floors instead of pressure washing them.
HomePlus maid and office cleaning service in Burlington, MA, understands the importance of water conservation. We have top-tier cleaning equipment and tools that help achieve optimal results without the use of extra water. We take pride in our understanding of green cleaning methods and our commitment to keeping you and your employees healthy.
6. Use Cost-Effective Landscaping Methods and Practices
Here are a few suggestions for this.
Install moisture sensors: Automated landscaping might result in green areas being watered even when it isn't necessary. Moisture sensors save down on waste by turning off sprinklers and other irrigation systems when they aren't in use.
Examine sprinkler coverage areas: Many sprinkler systems are situated in areas where a significant amount of water is lost in non-green areas. Make sure sprinklers are only used in places where their water output is effective.
Irrigate early in the morning or late in the evening: This practice will help prevent water loss due to evaporation.
Make use of drought-tolerant plants and native turfs: Make sure to use plants and turfs that use as little water as possible when designing and building an outdoor landscape.
Reliable Cleaning Services
If you own a business, you want to make an excellent first impression possible on your clients. An unclean, tidy office may create an unfavorable first impression of your office. Get a well-clean, well-kept commercial space with the help of HomePlus!
Our office cleaning service in Burlington, MA, provides non-toxic and eco-friendly floor-to-ceiling cleanings for small businesses and offices.
We understand that the cleaning chemicals we employ must address your clients' demands as well as their potential sensitivities. That's why our maid service in Burlington, MA, only employs non-toxic, biodegradable, and allergen-free green cleaning chemicals.
For booking, click here!
---