Beginning to Clean When Overwhelmed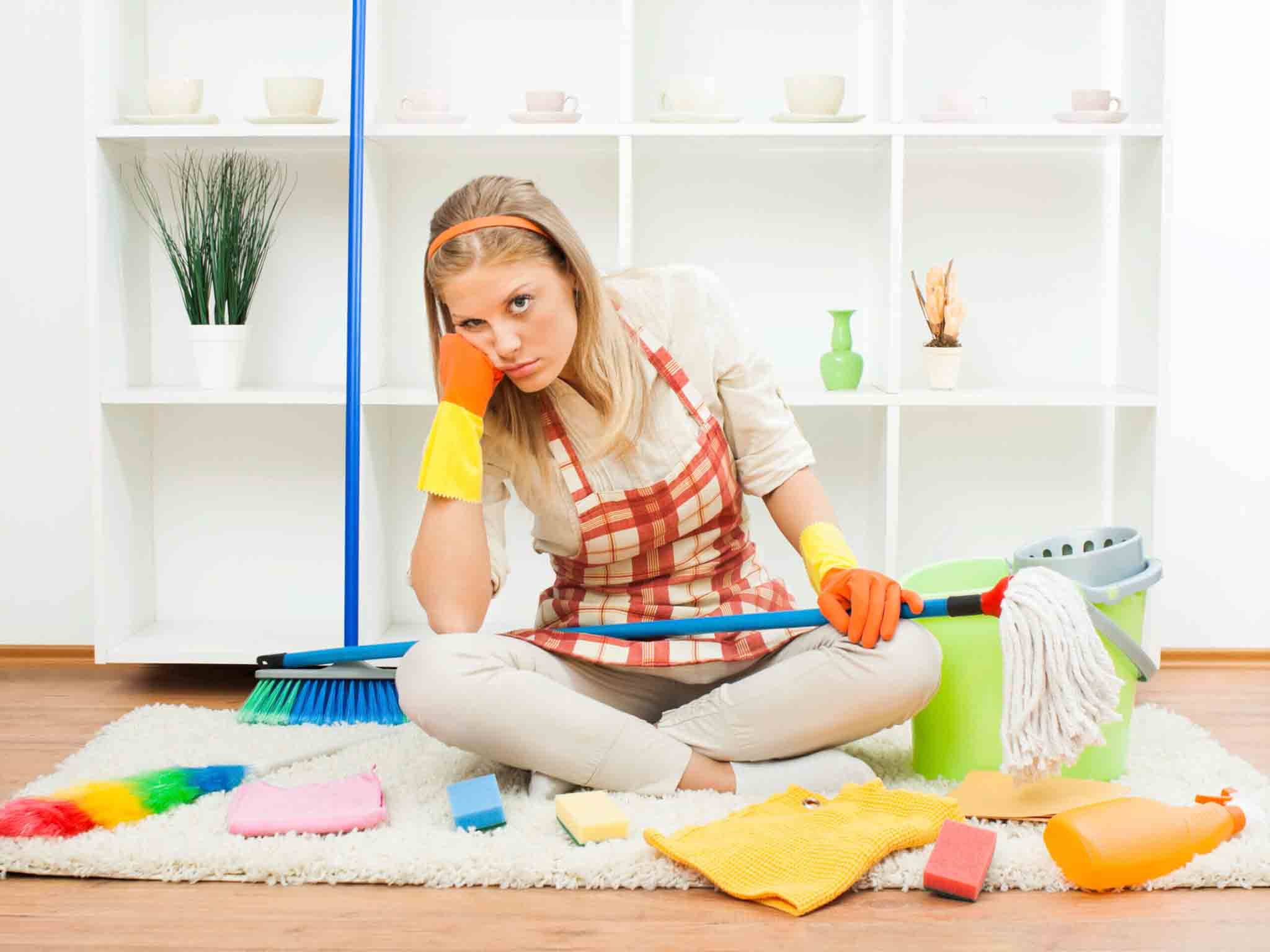 Have you ever stared at a cluttered living room or a sink full of dishes and wondered, "Didn't I just clean this?"
Sometimes, maintaining our house tidy and organized can become difficult. We can have every intention of getting things done. Still, we're so tired and overwhelmed by the clutter and chaos that we decide to eat chocolate today and tackle the task tomorrow.
But worry not! You can let HomePlus professional house cleaning service in Newton, take care of all your cleaning chores.
Or, if you are someone who prefers to manage your cleaning chores on your own, we have got you covered in that aspect as well!
Here are some tips from our experts that can help you overcome the feeling of being overwhelmed when you don't know where to begin or when you will get done.
1. Avoid Marathon Cleaning
Many people find cleaning frustrating because they look at the whole house—or the room—or even the pile of dirty laundry—as a whole, rather than smaller, more manageable components. If you approach house cleaning as if it were a marathon, you may come to relate it with the tension and boredom that comes with it.
It's no surprise that tidying and other duties can feel onerous and never-ending when you approach them with an all-or-nothing mindset.
Instead, go for a sprint-like approach like the 20/10 method, which can be performed as follows:
Set a 20-minute timer on your clock.
Clean for 20 minutes.
Take a break from the cleaning for a 10-minute break.
Repeat
Make adjustments to the scheduling to suit your requirements, mood, or motivation, even if it means cleaning for 5 minutes and taking 30-minute pauses. The goal is to train your mind to link cleaning with small, relaxing bursts of activity and consistent progress rather than a long, exhausting journey.
2. Choose a Starting Point
When you're faced with a cluttered house, you could feel overwhelmed not by the work of cleaning but by not knowing where to start. Decision fatigue is real, and it can make you ignore the issue entirely. If you are facing decision fatigue, keep in mind that there are no bad options! Any small step forward will motivate you to keep going and help you discover clarity in the midst of the chaos.
Here are some areas you can begin with:
Floor
Starting with the floor can make a great difference because a cluttered or dusty floor makes everything else in the room appear messier. You can tidy and sort stacks of mail or books, sweep up crumbs with a broom, or vacuum the living room carpet.
The Kitchen Sink
A clean, gleaming sink can be attained quickly and effortlessly, and it will provide you with a sense of achievement that will motivate you to complete the remaining chore. Once you have washed the dishes or loaded the dishwasher, give the sink a good scrub. (Dry it after rinsing to help protect the sink!).
Laundry
Start by dumping a load oflaundry into the hamper. You'll be able to use the momentum to tackle something else while your dirty garments swirl in the suds.
Your Wallet
Get rid of any expired credit cards. Also, remove the old receipts you don't need. Save contact information from business cards in your phone or address book. This activity may benefit no one except you, but sometimes simple tasks like these can give you the inspiration to move on to something bigger.
3. Define Your Priorities
Take a proactive approach and make a list of the specific tasks that, once completed, will give you the highest satisfaction and make a great impact.
You don't need to include every cleaning project, room, or surface that comes to mind. Just concentrate on the ones that matter the most to you. You can note it down on your phone or handwrite it and stick it on the refrigerator. Refer to it when you're feeling overwhelmed and ask yourself: Are these duties finished? If not, pick one and begin there.
4. Make a Playlist for Cleaning
Upbeat music that makes you want to move can help you finish your to-do list. Make your own playlist of your favorite songs, or browse for curated playlists for housekeeping on streaming music services like Spotify, Apple Music, or Amazon Music Unlimited. (Try looking up "cleaning motivation")
If you're in a more cerebral mood, listen to an audiobook or a popular podcast as you work. Sometimes your brain needs some distraction to get into the cleaning mode.
Put Your Trust in a Professional
Overwhelm comes from the perceived pressure to keep your home spotless at all times. But messes happen, and there's no need to feel bad if life gets in the way of a spotless bathroom mirror or a neat dining room table. There is more to life than cleaning!
If you're overwhelmed by frequent cleaning activities that eat up your free time or often don't get done, reach out to our experts at HomePlus.
Our house cleaning service in Newton, Ma, offers customized plans and schedules and has all the tools and equipment needed to leave your home organized and gleaming. Let us handle all the dirty work so you can do what you want and spend more time with the people you love!
For booking, click here!
---