What Are the Cleaning Services Included in Deep House Cleaning?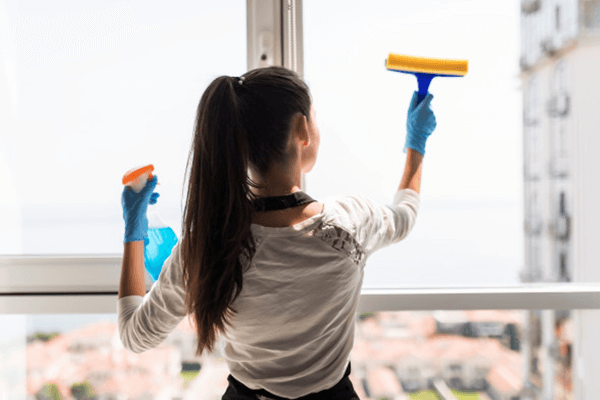 One of HomePlus Cleaning's most loved services is the top-to-bottom deluxe deep house cleaning. This is by far the most extensive package that we offer. Since you are paying a bit more for this service as compared to a general house clean, you may be wondering what are the services that you get.
Let's get into the deep house cleaning package itself, starting with what kind of people should be looking to purchase the service.
When Should You Opt for a Deep House Cleaning?
Here are the three situations when it is recommended to opt for a deep cleaning over a standard house clean:
When you are moving in or moving out of a house. Remember that HomePlus offers a move in/move out cleaning package that is specifically tailored to this situation too.
When your home has not been cleaned for a long time, and you know a standard clean just won't cut it.
When you have been away from your house for a while (e.g. on a vacation) and have just returned to a dusty mess.
During spring or fall, as this is the time when people give their house a thorough clean.
In general, if your house has not been cleaned for a while, then you should go for a deep clean. However, if your house is being cleaned regularly, a standard cleaning should be enough.
If you have never used professional cleaning services before, we would recommend getting a deep clean first. After that, you can use standard cleaning services recurringly to make sure your house stays tidy.
What do You Get With Top-to-Bottom Deluxe Deep Cleaning?
Whats Included in a Top-To-Bottom Deluxe Deep House Cleaning Service?
Simply put, this is the most advanced cleaning package you can get. Everything from the baseboards to the ceiling fan is cleaned. Furniture? Not only is it cleaned but also polished! Shelves? Hand wiped to spotless perfection! Trash? Not only emptied but also washed and relined!
You are probably beginning to understand how a deep cleaning differs from your usual clean. The major difference is the attention to detail. Once we are finished with the process, your home will probably be unrecognizable from the way it was before.
Let's look at some of the intricacies of our deep cleaning service.
The Kitchen
Apart from the appliances themselves, everything will be spotless. The fridge is cleaned not only on the outside but also from the inside. The stove is given a thorough rubbing to make sure it stays clean, and the microwave oven is cleaned so that your food is not only warm but also sanitary (you may not know this, but a dirty microwave carries a lot of bacteria and germs).
Of course, we will also clean the kitchen just like we would any other room. From the windows and the ceiling fan right down to the floor, everything will be clear of even the slightest bit of dirt once we are done with the place.
The Bathroom
It will come as no surprise when you learn that the bathroom is one of the dirtiest places in your home! What you may not know is that it is much more difficult to clean a bathroom than the other rooms.
The main thing that you must do when cleaning a bathroom is to clean it in a way that reduces the buildup of bacteria in the future.
In our deep clean, we make sure to scrub your toilet and the tub/shower twice. This gets rid of all the buildup. We also clean all the mirrors, the sink, countertops, and the outside of cabinets.
After that, your bathroom is sanitized to make sure it as bacteria-free as you can realistically expect a bathroom to be.
Sanitization
In the era of COVID-19, it is as important to have a home that is sanitized as it is to have a clean home. Even before the pandemic, HomePlus provided sanitization services. However, our coronavirus and flu disinfection service is more important than ever right now, especially if you have older people living with you.
You can opt for this service along with a deep clean. If you have guests over regularly and want to protect yourself as well as your family, then this is an easy way to achieve the peace of mind that you desire.
Should I Get a Deep Cleaning Service for my Home?
If you have never had your house deep cleaned before, then the answer is definitely yes.
If your house is already cleaned often, then deep cleaning may not be for you. Generally, you should get your house deep cleaned once every few months. Of course, if your house hasn't been cleaned in a while (e.g. because you weren't living in it), then you should get it deep cleaned before you move in.
Just remember that deep cleaning doesn't include everything in your home. For example, the insides of cabinets will not be covered under a deep house cleaning package. Similarly, carpets are also not cleaned. If you want more details, you should contact HomePlus cleaning and schedule an appointment.
---