Top 5 Safe Household Cleaners You Should Use in Your Home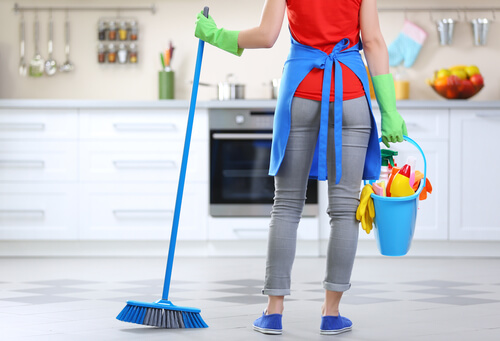 We often require some time to prepare our minds before cleaning chores. For some, even the thought of cleaning can be tiring. But once you enter into a productive flow, performing each chore starts to feel effortless.
It is important to have the right cleaners and tools on hand to get over these chores as quickly and smoothly as possible. Without the proper tools, it can be very difficult to do the job in a smooth and comprehensive manner.
There are many cleaning products that contain dangerous chemicals. These chemicals can damage our environment and health. With so many options and aggressive promotions, it can be difficult to determine what you really need to clean your home, which chemicals may cause more harm than good, and which companies are attempting to balance safety and effectiveness.
Environmental Working Group (EWG) has listed some common but hazardous ingredients that you should keep an eye out for and avoid when shopping for cleaning products. These ingredients are respiratory and possibly reproductive or developmental irritants and also possess cancer-causing properties.
Sodium hypochlorite
Ammonium hydroxide
Borax and boric acid
Formaldehyde
Quaternary ammonium compounds
One should always opt for natural and eco-friendly cleaning brands that are conscious about their consumer's health and environmental well-being. We have listed five safe, long-lasting, and easy-to-use cleaners that are produced using sustainable manufacturing practices.
1. Mrs Meyer's Clean Day Multi-Surface Everyday Cleaner Bottle, Basil Scent
Price: $4
Purpose: Anywhere
Mrs Meyers's cleaning products are made from only natural ingredients and are free from harsh chemicals like Formaldehyde, ammonia, chlorine, and synthetic surfactants. This multi-surface cleaner made from plant-based ingredients and essential oil works as great as a standard chemical-based cleaner while leaving no harsh odors behind.
It is also very gentle and doesn't irritate the skin. Instead, it has a pleasant, sweet, and floral honey-like scent after it removes dirt from your countertops and surfaces. Basil, Lavender, and Lemon Verbena are among the brand's other pleasant aromas. Among the other pleasant aromas are Basil, Lavender, and Lemon Verbena.
2. Krud Kutter Original Concentrated Cleaner/Degreaser, 32-ounce (2-Pack)
Price: $20
Purpose: Kitchen
This non-toxic, water-based product is listed in the EPA's Safer Choice database as being harmless to pets, kids, and the environment. It helps you cut back on accumulating grime, dirt, and oil, making your job easier.
This multi-purpose cleaner can be used indoors and outdoors, even in driveways and patio furniture. For kitchen cleaning, it's very effective in removing grease, beverage and food scums, gum, oil and soap stains. Experts recommend it for greasier areas such as stovetops. An area of almost 75 sq. feet can be covered with it by diluting one part of the concentrate with ten parts of water.
3. Stoner Invisible Glass Premium Glass cleaner(2-Pack)
Price: $12.99
Purpose: Living Room and Bathroom
This glass cleaning product can be found in both spray and aerosol form, and people who have tried this product hardly look for an alternative. Because it contains no soaps, colors, or scents, it will leave your mirrors and glass surfaces sparkling clean and streak-free. It's also free of ammonia.
Once you've cleaned all of the glass surfaces in your bathroom and living room, you may use it to clean the stains, droppings, and other messes that come with driving outside.
4. White House Lemon Scent Cleaning Vinegar
Price: $6
Purpose: Wood floors
Simple white vinegar is the greatest way to clean wood floors if it's done the right way. This natural solution made by White House contains only white distilled vinegar, water, and natural lemon extract, making it an excellent choice for those who don't like the smell of vinegar alone but don't want to make their own vinegar and essential oil blend.
5. Hoover PowerDash Pet Carpet Cleaner, Shampooer Machine
Price: $89.99
Purpose: Carpets and Living Room
You will need this Hoover cleaner if you have a pet (or pets) along with a carpeted floor. For less than $ 100, this appliance can clean and protect against bacteria and has a removable nozzle for washing grime and dirt.
It also boasts a two-tank system that separates clean and contaminated water. Other than that, the HeatForce technology within the cleaner can also dry up your carpet quickly.
Or, You Can Leave the Cleaning to Professionals
If you want to avoid the hassles of cleaning your house, consider hiring a professional like Homeplus. We believe your time is too precious to be spent on walking down the cleaning supplies aisle in the local supermarket and deciding which cleaners to buy.
Our professional cleaning service in Newton, MA, has all the right cleaning tools and products available to make sure we don't leave any stone unturned while performing your cleaning demands. We also highly encourage the use of eco-friendly cleaning products.
Book us now with a single click here!
---