The Ultimate Tub and Tile Cleaning Guide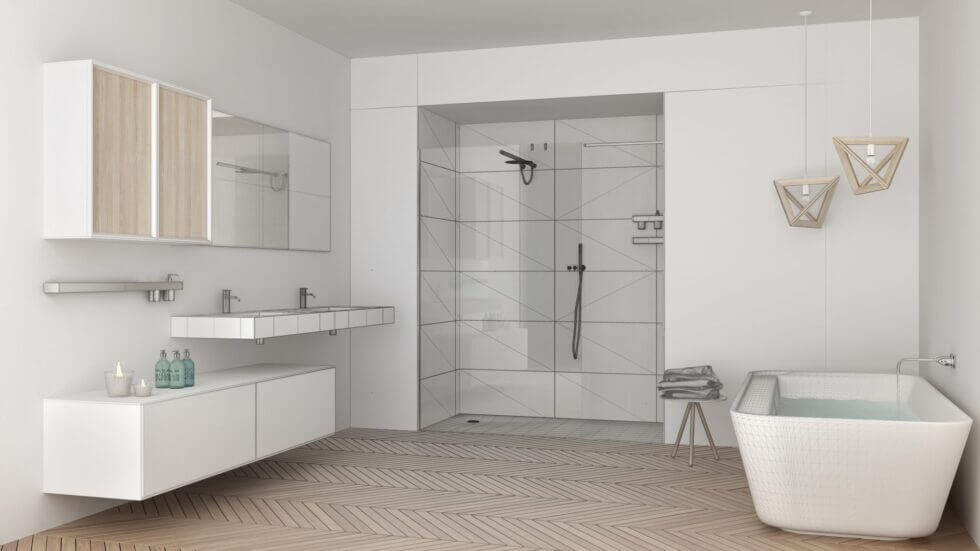 Cleaning may seem a daunting and tedious task. It's hardly satisfying when you must grab those cleaning products and spend the weekend afternoon arduously getting rid of those stains, dirt, mildew existing on the surfaces.
Do you know what's the hardest to clean and the most avoided area in your home? You guessed it- the bathroom. The place is a breeding ground for fungus and harmful bacteria.
Here is why it's essential to clean your bathroom by taking care of its two key fixtures – The tiles and the bathtub- and some tips on how you can clean them in a natural, effort-free way.
Why is Cleaning Tiles Important?
Stains and spots on the tiles can impair the aesthetics of your bathroom and attract germs and bacteria if cleaning is not done regularly.
The grout between the tiles also attracts dirt and dust, which becomes hard to treat once it gets caked on the surface. Therefore, bathroom tiles should be regularly cleaned for keeping them hygienic and maintaining their best appearance.
Some Useful Cleaning Tips
For Spot Treating Sprains:
Mix ½ cups of water or Marseilles soap (preferably more "greener") with ½ cup of vinegar and pour into a spray bottle. Spray the mixture on the stained tiles and either use a non-abrasive sponge for scrubbing or a toothbrush, wash with warm water and dry. Use salt for removing hard water strains as it is an excellent disinfectant. After putting water, put sprinkle salt on the stained area, and then scrub away the salt. Apply the vinegar and salt solution if any stain remains.
First, loosen the grime of your bathroom tiles with vapours from a hot shower and then use a mixture comprising of ½ cup each baking soda, lemon juice and warm water. Once prepared, scrub the mixture on the wall tiles and let it settle for 5 minutes. Then, wipe clean using a clean, dampened sponge. Follow up with disinfection by applying a suitable disinfection spray. Let it stay for 5 minutes before rinsing with water and wipe the tiles with a micro fabric cloth.
You can use a vacuum cleaner in the bathroom for removing the dust and dirt, but only clean it after you're done with the walls.
A vacuum cleaner can also remove stray hair strands. Then apply an effective floor cleaning agent and disinfect using a suitable floor cleaning disinfectant product.
Always check before using disinfection products for computability with surface and usage.
The area between the tiles is called grout. It is imperative to clean this area as it traps dirt particles. There are many ways to clean the grout.
You can create a salt and vinegar cleaning agent with 1 cup of white vinegar and 1 cup of salt and dab a sponge and scrub off the grout. After waiting for 15-20 minutes, wipe the grout with an old toothbrush or a damp sponge. Similarly, you can also use bleach or make a baking soda paste.
Why is Cleaning the Bathtub Important?
A dirty bathtub is hardly a relaxing sight, especially when it's the place where you are supposed to clean yourself, relax and melt away the stress of the day.
Your bathing ritual cannot be pleasing when there are rusty spots, scratches, or mildew around the corners of your bathtub. Mildew can proliferate because of regular use, and you should try to tackle this problem before the dirty things become caked on the surface.
Regular, rigorous cleaning saves you a lot of effort in the long run. Our house cleaning services in Boston can help you with that and improve your bathing experience.
Some Useful Cleaning Tips
Before cleaning your bathtub, consider what it's made of for choosing the appropriate type of scrubber to use.
If the bathtub is fibreglass, acrylics, or porcelain-enamelled material, opt for sponges and rags instead of scrubby bushes. These kinds of surfaces are susceptible to scratches. However, feel free to use scrubby bushes for a stone-resin bathtub because the material is more durable.
Start by pouring water all over the tub and then sprinkle baking soda all over the tub. You can use a chemical cleaner if the tub is dirtier.
Fill a bucket with hot water and few tablespoons of dish soap, and then take a rag, sponge, or a scrubbing brush and scrub all the sides of the tub. The sponge or the brush should be continuously rinsed out using the hot water in the bucket.
After you're done scrubbing rinse the entire tub with a hand sprayer, and polish the surface, handles with a clean, dry cloth.
Additional Tips: There are also a few essential things to consider.
Always wear gloves to protect your skin from harsh chemicals and rinse away all the cleaning products. If the stains are mild, combining the sprinkling soda method with vinegar water will do the job.
For tough stains, you'll want to apply a paste made from hydrogen peroxide and baking soda and then let it sit for an hour before wiping it away.
Stubborn rust can be removed by squeezing half a lemon, sprinkling borax over it, and rinse after an hour.
Clean Your Tiles and Bathtub With Us
HomePlus home cleaning services in Boston offers you cleaning services for your tiles and bathtub so that you don't have to go through the hassle of cleaning out now and then.
Book now with a single click here.
---