The Elderly and House Cleaning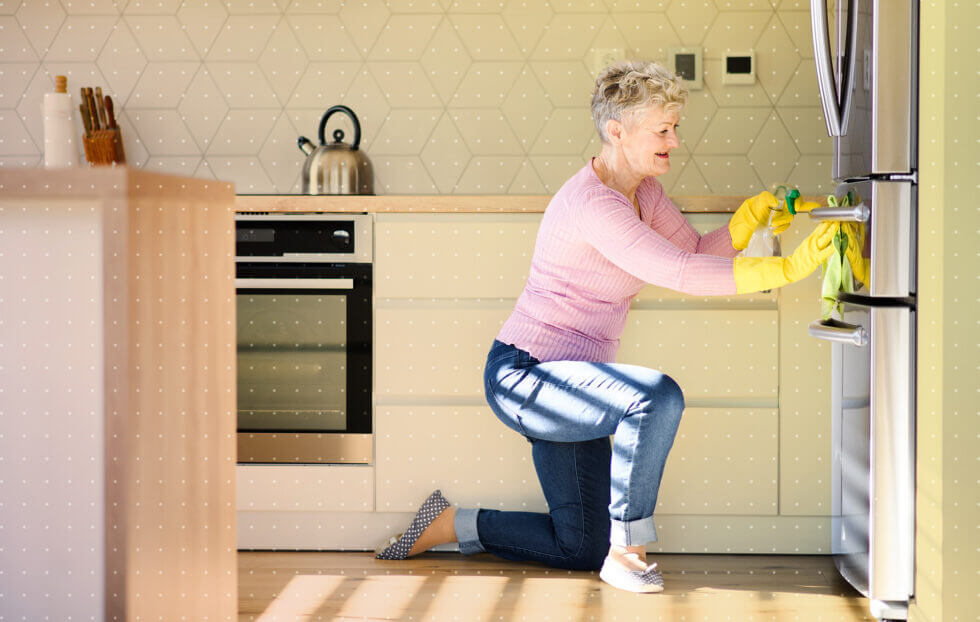 Are your elderly parents and grandparents having trouble with essential household duties and chores?
If it becomes too difficult for them to keep a clean home, it can get messy, dusty, unpleasant, and sometimes even unsafe.
Senior citizens may require additional assistance in keeping their houses clean. As people get older, it becomes difficult for them to sustain the effort required to clean their homes. Physical restrictions caused by sickness, injuries, or disease may impair their energy and strength when doing routine chores.
For older people, keeping a clean and clutter-free house may be challenging, negatively impacting their general health and well-being. So, it is essential to assist them in getting the major benefits of a clean home.
Why the Elderly Require Professional House Cleaning?
Life gets more challenging as you enter old age. Maintaining muscular mass, healthy joints, and athletic coordination becomes increasingly challenging for seniors with each passing year.
Every senior reaches a point where they must lean on others for some of their tasks and activities.
Cleaning might be challenging for seniors who have moderate to severe physical limitations. Typically, issues arise as a result of specific housekeeping activities.
Most seniors will struggle with tasks that involve an uncomfortable posture, hard lifting, or substantial joint stress. Dusting high places, cleaning the toilet, and fetching a bucket of water are examples of these activities.
They sometimes overlook these tasks, resulting in an environment that's unsafe for them to live in.
Seniors who persist in doing these chores risk putting themselves in even more danger.
While housekeeping may be a fantastic source of exercise for seniors, over-exertion puts them at a considerably higher risk of injury. This could result in throwing out their back, pulling a muscle, or fracturing a bone in a fall, all of which are significant injuries for seniors.
Help Seniors in Keeping Their Homes Clean
If an elderly member of your family is having troubles with basic cleaning tasks, you can help them out. Here are some cleaning ideas to get you started.
Support From Friends and Family
Set up a meeting with friends and family to talk about how to share duties. Family and close friends are typically willing to assist and only need to be asked.
List of Essential Tasks
Make a list of essential cleaning activities, including their frequency and time. To reduce your loved one's worry and niggling doubts, engage them in the process.
Keep Clutter Out
Clutter may be hazardous to elders, increasing the risk of tripping and falling. When you are cleaning up, certain spaces are bound to be in frequent use. These spaces include halls, stairwells, walkways, and doors, and they should be your primary targets.
Deep Cleaning
Concentrate on cleaning and sanitizing once you've eliminated all the debris. After that, scrub places that are frequently overlooked in the daily routine using warm water.
Cleanliness is vital for everyone, but it's especially crucial if a senior has diseases like asthma, allergies, dementia, or other health issues.
Benefits of Cleaning Services for Older Citizens
Hiring a house cleaning service for your elders can help a lot. Cleaning services can guarantee that your parents and grandparents are not forced to perform cleaning tasks that they should not be doing.
It will enable them to live more easily, and it may even save them from having to visit the hospital treatment room.
A cleaning service offers so much more to seniors than just a clean, safer place. Housekeeper visits are eagerly anticipated because they provide excitement, change, and communication. Loneliness is common among the elderly, so having a frequent visitor might be beneficial.
Elderly and the house cleaners who help them care for their houses have formed many strong friendships. When it comes to elderly house cleaning services, the customer gets much more than just a secure place to live.
It's also important that the cleaners are particularly trained to deal with the elderly. This allows the housekeepers to make recommendations for useful services or search for potential risks in the property. With regular visits from a watchful cleaner, these dangers can be reduced or avoided.
Cleaning services for older citizens make it possible for them to enjoy a healthy lifestyle. A cleaned house is more sanitary and healthful, lowering the risk of viruses and bacteria infections.
HomePlus home cleaning services contain no unpleasant odors or allergens. Dust and other particle matter are also kept out of the air with HEPA-filter vacuums. Seniors with COPD and other respiratory diseases may benefit from this.
Our professional house cleaners in Boston use non-toxic cleaning chemicals and take other efforts to preserve air quality can also assist seniors with respiratory difficulties.
Book now with a single click here.
---