Major Differences Between Home and Commercial Cleaning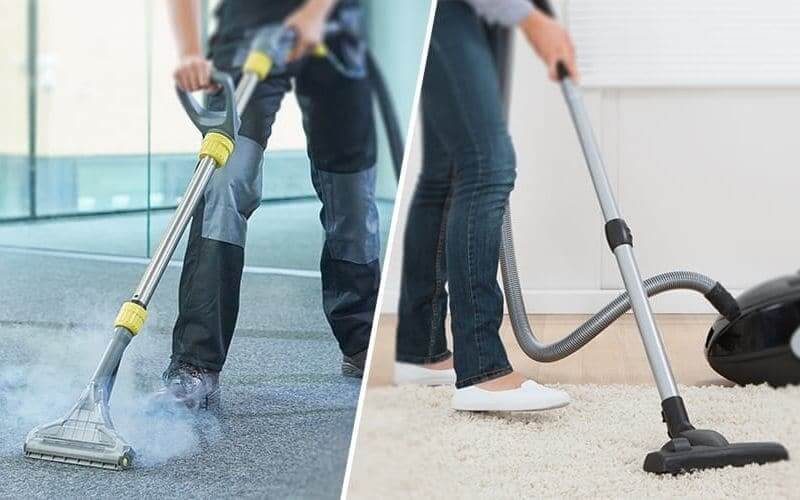 When we think of commercial, we usually think of something that is a step up from residential. A commercial refrigerator can hold more items than a home refrigerator, and a commercial range can cook more efficiently than a household range.
This prompts many people to wonder whether, if you want the finest cleaning for your property, should you hire a commercial cleaning company or settle with a domestic cleaning service?
Cleaning isn't the same as maintaining equipment. When it comes to the difference between commercial and residential, the terms have a different meanings.
Although the purpose of both is to clean, in this article, we will discuss the primary differences between them.
What is Commercial Cleaning?
Commercial cleaning companies carry out commercial cleaning. These companies train cleaners to use specialized technologies for cleaning commercial structures, such as:
Clean rooms, offices, and R\&D facilities
Healthcare and medical facilities
Industrial spaces
Schools
Commercial cleaners possess extensive expertise, training, and technology for deep cleaning specific environments. This is necessary for the safety of your employees and guests.
The main benefit of hiring commercial cleaning companies is that they are bonded and insured, which means that any damage or theft that occurs during the cleaning process will be covered.
HomePlus office cleaning service in Wilmington, MA, is licensed and insured and possesses a team of specialists who know how to clean different office environments.
Commercial cleaning can be done during the day or at night when there is no official work or no personnel present. At night, Cleaners can do their task more swiftly and effectively when there is no disturbance to the company's daily operations.
Commercial Cleaning Checklist
HomePlus commercial cleaning service in Willington, MA, offers large commercial cleaning packages for all types of business spaces. We follow the checklist outlined below for our commercial clients.
Sitting Office Cleaning Checklist
Dust wall, ledges, windowsills, and blinds
Mop the floor
Vacuum carpeted floors, vents, and chairs
Wipe and polish mirrors
Clean every glass material (windows, mirrors, glass tables, etc.)
Sanitize doorknobs
Clean small appliances in the breakroom
Dust desks and ceiling fans
Toilet and Pantry Cleaning Checklist
Disinfect toilets
Scrub sinks
Replace toilet paper and paper towels, if necessary
Wipe down had dryers and towel dispensers
Sanitize all basins. Polish all brightwork.
What is Residential Cleaning?
As the name implies, residential cleaning is where families live. It involves cleaning areas that can only be found in homes. This includes
Living room
Kitchen
Bedrooms
As a result, residential cleaning often covers a lesser area than commercial cleaning. A house cleaner can work for a larger company or be self-employed.
A cleaner's cleaning schedules are more rigid when it comes to cleaning residential spaces; yet, cleaners can clean with or without the presence of the house owners. HomePlus house cleaners in Willmington, MA, prefer morning time for cleaning residential spaces. Night times are avoided since this is when people sleep.
Rates for residential cleaning services are based on the amount of work required. The bill charged will be higher if the work related to cleaning is higher. The company must provide the operation's cost on the same day the bill is initiated.
Residential Cleaning Checklist
HomePlus maid service in Willington, MA, employs the cleaning checklist template given below to ensure that no cleaning is overlooked in the package.
Whole House Cleaning
Dust surfaces, hand wipes, baseboards, chair rails, door panels, and ceiling fans
Vacuum carpet floors
Mop damp floors
Dust furniture, picture frames, lamp, and lampshades
Clean mirrors
Empty trash
Bedroom
Dust furniture tops, baseboards, door panels, and chair rails
Mop damp floors
Vacuum carpets
Change sheets and make beds (upon request)
Empty trash
Bathroom
Clean and disinfect surfaces
Disinfect and clean toilets
Spot clean cabinet fronts
Disinfect and clean doorknobs and switch plates
Polish fixtures
Mop floors
Vacuum
Take out the trash
Kitchen
Dust Chair rails, cupboards, door panels, and baseboards. Dust the refrigerator's top
Clean cabinet fronts
Disinfect and clean doorknobs and switch plates
Disinfect and clean the sink.
Disinfect and clean microwave inside and out
Disinfect and polish the exterior of the dishwasher
Disinfect and polish the exterior of the refrigerator
Disinfect and clean the kitchen table.
Vacuum and clean the floors with a damp mop
Take out the garbage.
Hire a Professional
if you're looking for high-quality commercial cleaning services in Wilmington, MA, look no further than HomePlus!
We clean on your schedule, day in and day out, to ensure that your business is ready for guests and that your employees are healthy.
Our customized office cleaning and maid services in Wilmington, MA, are suited to your cleaning need. We maintain extensive checklists to ensure that our cleaners polish and disinfect every nook and corner of your property.
We own the most up-to-date equipment, which is automatically tailored to your cleaning requirements. Our house cleaners in Wilmington, MA, demonstrate the most up-to-date cleaning techniques that most regular cleaners are not aware of.
For booking, click here!
---