How to Deep Clean an Apartment Before Moving In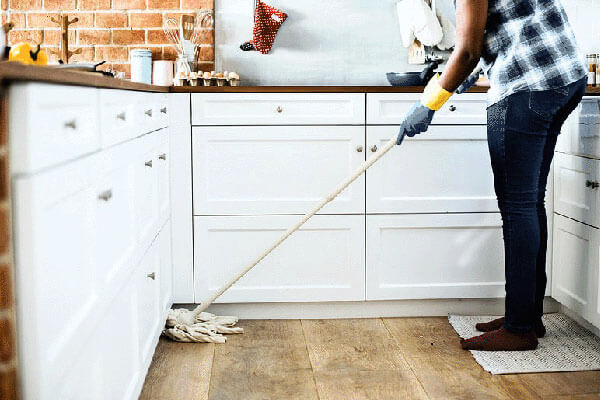 You may be excited to move into your new apartment. After all, you probably spent countless hours poring over every listing to see which one would be perfect. However, a deep cleaning is almost compulsory before you move into a new place. Especially if the apartment had a previous tenant.
Even if your apartment is new, it doesn't mean that it is clean. In fact, it may be dirtier due to the building tools that have been in there. Here, we will provide an overview of the entire process of deep cleaning your apartment. Our goal here is to make sure that your apartment is spotless before you move in.
The Cleaning Process – Start High And Away From The Entrance
I have mentioned this quite a lot on this blog. Whenever you are cleaning any living space (and most commercial spaces as well), it is best to start high and from the back.
When you start cleaning a floor and then clean the walls, the dust from the walls simply falls onto the floor, making it dirty again. The same goes for starting from the entrance. When you start from the entrance and move towards the back of your apartment, the dust does not exit your apartment. It is simply shuffled around. Your apartment will look clean for a few days and then the dust will be visible once again.
It is best to clean the roof first, then the walls, then the furniture, and then the floors. Also, make sure to clean the backside of the apartment and move towards the entrance in an orderly fashion. Here at Homeplus Cleaning, we always follow this guideline to make sure that your home is squeaky clean.
Cleaning The Walls And The Floors
Chances are that the top ends of the walls of your apartment will be fairly difficult to reach. As such, a stick may come in handy. You can also clean the roof using it.
Make sure to scrub the floors properly. Go from room to room and do not be afraid to use too much cleaning solution. When it comes to floors, cleaning without professional training is tricky.
It is possible that a previous tenant had pets. If they did, then hair and fur can get stuck underneath. This is extremely difficult to remove on your own. We further explore the advantages of using a professional service towards the end.
Disinfect Everything That Gets Touched Frequently
You must kill all of the germs when you move in. Things such as switches are touched multiple times a day. If your apartment building is old, chances are that there are numerous areas of the house (such as door handles) that have been touched literally thousands of times.
The sad part is that most people do not even remember to clean these parts of the apartment. You should disinfect everything that comes into frequent contact with humans.
Don't Forget The Small Things
Often, people forget there are some extremely important things. Here is a checklist of all that you need to watch out for.
Replace the toilet seat if there were previous tenants.
Properly clean all of the closets as well as the cabinets (especially in the kitchen).
Properly disinfect the bathtub and the rest of the toilet. We have a complete bathroom cleaning guide that you can follow.
Sanitize your fridge.
Do not forget to clean the fans. They accumulate a lot of dirt. Do the same for your Air Conditioner if you have one.
Think of Hiring a Professional Service
While you can deep clean your house on your own, there are numerous reasons why a professional outfit may be better. Even though there are small, cheap tools that can help you clean better, none of them stack up to the professional tools that are used by cleaning companies.
Sure, you can buy those tools. However, you will not be using them much. As such, it will be a lot more cost-effective if you go with a cleaning company. While it will cost you a little bit, the job that they do is usually a lot better than anything you can do on your own.
Homeplus Cleaning offers its house cleaning services in Boston, MA, and its surrounding areas. Our trained staff will clean your house from top to bottom, making sure that all you need to do is to move your stuff in and start living in your new home!
We just went through the process of deep cleaning your apartment before you move in. Some tenants clean the house before they move out, but they are few and far between. To be on the safe side, it is best if you clean or hire someone to clean every single inch of space before you move in. Chances are that you will be living in your new apartment for at least a few years, so the cost of hiring a professional cleaning company is definitely justifiable.
---