How to Always Keep Your Office Clean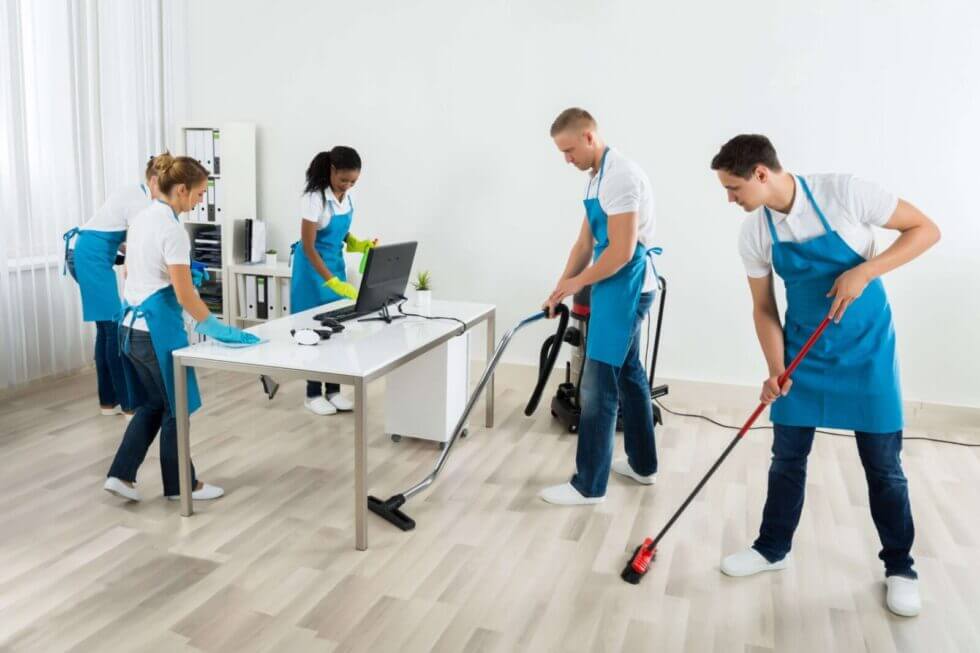 A survey conducted by Office Max reveals that 77 percent of Americans feel that disorganization negatively impacts their productivity, while 53 percent believe it negatively impacts their motivation.
Keeping an office clean is essential for keeping your employees safe, healthy, and motivated. By keeping your office clean, you can prevent pests from damaging the environment and the office. You can also keep your staff safe from developing allergic reactions due to dust or mold accumulation.
A clean and tidy office also gives a positive impression to clients and visitors about your company. Even if most managers understand the benefits of a clean workplace, keeping things organized is not always easy.
So, where do you begin? Here are seven simple things you and your employees can do to maintain a clean office.
1. Don't Allow Food on Work Desks
Often, you will find that individual desks are the most cluttered and dirty spaces in the office. Discouraging eating at tables is one way to reduce dirt in these settings. Food wrappers are less likely to be dumped on the side of the table and individual trash containers when people are asked to eat in the pantry. Furthermore, spilled coffee on documents and files will not be an issue.
Implement a no-eating zone in cubicles, even if it's just for snacks and tiny treats. While this may not sit well with everyone on the team, explain to them that it is to make the office much cleaner and more conducive for working.
2. Adopt a "Clean-As-You-Go" Policy
Asking your staff clean as they go is not the same as imposing rigorous office regulations. This clean-as-you-go policy is an excellent habit-forming activity to encourage employees to be attentive to office cleanliness. It will help preserve cleanliness and organization in the office. You can start by placing signs in the pantry to inform your employees of your new policy.
Cleaning as you go includes cleaning and drying the dishes that have been used. All dining tables should be wiped down, too. Dish racks and cleaning tools should be kept in the pantry to make things easy for everyone.
If you feel your employees don't have enough time to commit to this policy, you can call our commercial cleaning service in Belmont, MA, to help take some pressure off their shoulders and focus on their jobs.
3. Pay Attention to Common Spaces
Common areas are often the most the dirtiest and most disorganized regions. Keep the tables neat and tidy to avoid clutter in these locations. One drastic step is to empty the tables after every use, even if it involves removing all piles of paper and pen holders.
Of course, keep in mind that dumping them somewhere else in a disorganized state would not help. If you must remove items, make sure they are returned to their proper locations.
If you work in a co-working space, encourage each individual to clean up after themselves. Since everyone uses these spaces, ask them that no personal items be left lying around.
4. File Everything
Do you have any old documents sitting around? If that's the case, now is the moment to file them away. Consider utilizing a shredder to ensure that unauthorized personnels do not see confidential material.
Furthermore, documents and contracts should be filed according to the purpose for which they were created; this does not necessarily imply that they should be put in alphabetical order.
5. Clean Your Technology
Dust on electronics indicates that your office isn't well-kept. Instruct your employees to keep their electronic devices, particularly those owned by the company, free of dust at all times. Provide wipes, cleaning liquid, and microfiber cloths to your employees to clean their devices independently and with the proper cleaning tools.
You can save money on buying cleaning supplies by engaging a professional cleaning service like HomePlus. Our house cleaners in Belmont have the right cleaning tools and products required to perform high-quality cleaning.
6. Organize Cables and Wires
Cables and wires may make things look untidy and cluttered. Loose or lengthy cables might cause accidents. You want to avoid this for obvious reasons!
Fold and stick the wires to the floor with clips and electrical tape. Use wires that are exactly the proper length if at all possible. There are even tools that can hide cables and wires, which are excellent options for making the office look more presentable.
7. Hire a Professional Cleaning Service
When your employees spend time cleaning, it may coincide with their office duties. That is why you should get the help of a professional office cleaning service like HomePlus to get the job done.
Our commercial cleaning service in Belmont, MA, help businesses develop a healthy work environment and public image that matches the quality of their products or service. We will help clean and disinfect your office using professional-grade tools and products.
We have trained and experienced house cleaners in Belmont, MA, well versed with different cleaning protocols for every part of your office. You can expect them to thoroughly clean your office and leave no room for dissatisfaction.
For booking, click here!
---