Cleaning Up After a Party - Tips & How-To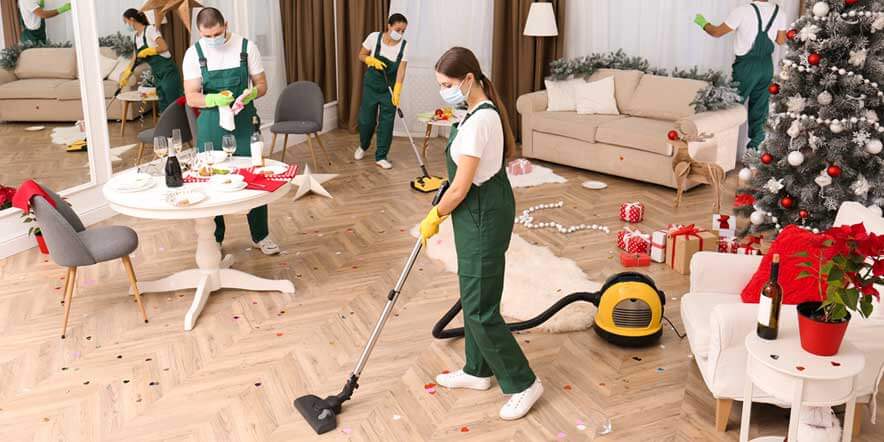 Parties are fun. You have the perfect time to forget about all the worries and enjoy. So far, so good! But, what every host dreads is the inevitable post-party cleaning.
You wake up knowing a big mess is lurking in your home that you have to tackle. A long, overwhelming list needs a cleanup, including floors, furniture, kitchen, living rooms, and the list just goes on!
That's when you start wondering where your after-party cleanup needs to begin and where it's going to end. Although most of the cleaning can be performed the following morning, it is advisable to get a few tasks done right after the party ends, or else you will be waking up to an absolute nightmare.
So, are you up to know the tips and ideas to make the after-party cleaning up less stressful, more systematic, and a lot simpler? Let's begin!
Gather All Your Cleaning Essentials
The first thing you need to do to start the cleanup process is considering the cleaning tools and products required for after-party spot-cleaning tasks. You must gather all of them in one storage space for easy access. Since every home is different, therefore, the required products can be tweaked according to your needs.
Nevertheless, below are some of the products that a germaphobe may need for cleaning purposes:
Absorbent kitchen cloths
Microfiber cloth
Mop
Dustpan for crumbs
All-purpose cleaner
Furniture cleaner
Garbage bags
Broom or vacuum cleaner
Suppose you cannot do this all by yourself. In that case, you can hire professional cleaners to clean your home after a blockbuster party to help yourself. It will ultimately lessen your burden and save your time.
Discard All the Disposables
There are plenty of empty bottles, disposable glass, plates, spoons, etc., lying around after a party. It would help if you got a trash bag, pour away unfinished items, and put recyclables in a sturdy bag.
Discard the leftover, or if there is anything that can be re-used, you should just store it in airtight boxes. Doing all this first would help you clean the home much better. As soon as you wind up the scattered leftover, you can concentrate properly on cleaning rather than clearing.
Load the Dishes in The Dishwasher
As the guests leave your home, the most helpful thing you can do is to pour the dishes into the dishwasher before sleeping. In this way, there will be no scattered dishes all over your place, causing a foul odor.
Make sure to check every room of the house for dirty dishes before setting the dishwasher to start. I am sure it would be surprising for you to discover where people leave their glasses and plates.
You can't clean up the kitchen efficiently in the morning until the dishes are scattered all around. Load your dishwasher as soon as possible for your post-party cleaning.
Additional Tip: No matter how tired you are, take care of the fragile items and do not carelessly load them into the dishwasher. It will help if you hand wash these items.
Clean The Rooms Systematically
Adopting a systematic approach while cleaning home after a party night is most effective when embarking on a whole-house clean.
When you plan a party at your home, additional seating is generally created to accommodate guests. A spacious floor is required to dance or move about freely. For this, furniture needs to be moved around. As a result, this leads to the rooms looking like chaos after the guests leave.
However, before you move things back in place, clean up the surfaces, make sure no corner is untidy and declutter your living room.
Once everything is cleaned, then you can move the furniture to its original place. There is a high chance of a few sticky stains on your table that need to be cleaned using an all-purpose cleaner and a microfiber cloth.
You need to spritz over stains with the cleaning product and wipe them right up. Some rooms might have surfaces like wood or chrome that need specially formulated cleaners which also aid in polishing the surface. Therefore, it is advisable to use appropriate cleaning products as per the requirements of each room.
Does Your House Feels Like a Home Again?
As the party night comes to an end, the home's condition is no less than chaos for the host. Especially if you have to work the day after or if you are alone to handle the cleaning process. So, a helping hand would do great for you in this regard.
If you are a cleanliness-obsessed person from Massachusetts, you have no better choice than the HomePlus cleaning And we are right here to offer you excellent house cleaning services in Massachusetts.
HomePlus cleaning professionals will use up-to-date products and delight the party host with dust-free floors and deep cleaning of the whole home. You can make an appointment in just one minute by clicking here. Our representative will reach you through a phone call ASAP.
---