Cleaning Tips for Tiny Apartments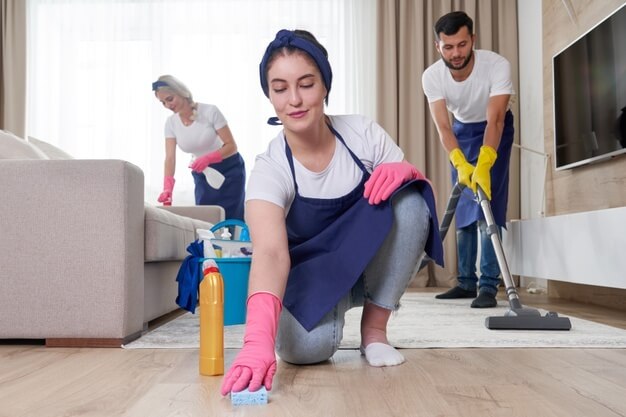 With a hectic schedule, it might be difficult to keep your flat tidy and clutter-free. Scrubbing the kitchen floor or putting away clothes is probably the last thing you want to do at the end of a hard day.
Sadly, the longer you put off a cleaning, the more cluttered your place will become. These suggestions can help you maintain your house and offer you more time to do the activities you like.
In this article, we'll go over some cleaning tips for tiny apartments. Let's get started.
Create a Cleaning Schedule
Creating a cleaning routine is one of the most efficient strategies to keep your little apartment clean. This will assist you in staying on top of your cleaning responsibilities and ensuring that everything is cleaned on a regular basis. Cleaning duties should be completed on a daily, weekly, and monthly basis.
Making the bed, wiping off surfaces, and cleaning the dishes are all examples of daily duties. Dusting, vacuuming, and tidying up the toilet are examples of weekly duties. Deep cleaning the kitchen, bathroom, and other parts of your residence might be a monthly effort.
Declutter Regularly
You may not have the stamina to clean for an hour or two after work, but you should be able to handle a 15-minute cleaning spree. Set a timer on your phone every evening, then clear up debris, stack dishes in the dishwasher, and hang jackets and shoes in the closet.
Many people prefer to spend the 15-minute nightly session on a new task each evening. They may put the sheets in the laundry and put new ones on the bed one night, while the following night may be spent cleaning the kitchen floor and the stoves.
Maximize Storage Space
Another key component of keeping your compact flat tidy is to maximize your storage space. Clutter may easily collect when you have limited storage alternatives, making it tough to maintain your area clean and orderly.
To make the most of your space, invest in storage solutions such as under-bed storage bins, over-the-door organizers, and multi-functional furniture. You may also frequently clear to free up space and maintain your apartment neat.
Clean as You Go
It is simple for a space to get overloaded with stuff in a tiny space. Cleaning as you go is the key to avoiding this. For example, instead of putting your dishes in the sink, put them in the dishwasher. Moreover, instead of dumping your boots and jacket to the side, store them in the coat closet.
Hiring HomePlus house cleaning services in Manchester, New Hampshire, is another option for you. Our professionals will help you in cleaning your tiny apartment.
Use Multi-Purpose Cleaner
While cleaning small flats, multi-purpose cleaning solutions might come in handy. All-purpose cleansers and microfiber cloths are examples of cleaning items that may be used on many surfaces. You'll save money and storage space since you won't have to buy or keep various cleaning supplies.
Furthermore, employing natural cleaning solutions may be an excellent method to keep your flat clean while avoiding the use of dangerous chemicals.
Ensure Every Item Has Home
The cleanest houses have a place for everything—remotes go in certain drawers, toys go in specific bins, and periodicals go in specific racks. Making sure that each object in your home has a designated home makes cleaning up a lot easier.
If you don't have a spot for specific objects, you may add extra storage, such as shelving or dual-purpose furniture, to make room for them. You may also use this as a chance to get rid of any unnecessary objects to make extra room.
Tidy A Little Bit Every day
If you correct tiny problems every day, you might never have to spend a lot of time cleaning. Simple and effective tasks include changing the bed, putting dirty clothes in a basket, and cleaning off the coffee table. Perform 5-minute activities on a regular basis to avoid wasting a Sunday washing floor and doing laundry.
Furthermore, your flat will appear nice throughout the week, allowing you to invite guests back. Finally, always clean up before leaving town for a lengthy trip. The unpleasant, sad sensation of leaving a clean place and returning home to filthy dishes is hard to treat.
Dust Regularly and Invest in an Air Purifier
Dust accumulates rapidly in smaller places, yet it typically goes unseen until it becomes a problem. Dust accumulates rapidly in tiny spaces, yet it typically goes unseen until it becomes a problem. A portable duster with an extension, for example, may work wonders for cleaning hard-to-reach spots. Dusting becomes much easier to handle when you incorporate it into your regular cleaning routine.
Purchasing an air purifier might also assist in keeping dust at bay. Quality air purifiers eliminate tiny particles from the air, such as dust, germs, and pollutants, which may help you keep your house clean while enhancing the quality of your indoor air.
Get Some Extra Help
Hiring a cleaning service will help you a lot more in cleaning your tiny apartment. You can always clean it by yourself, but the best way is to hire a cleaning service for a deep cleaning session.
Professionals of HomePlus cleaning services in Manchester, New Hampshire, will clean your apartment and let you be stress-free.
Contact us by clicking here.
---