Cleaning Tasks That Are Impossible Without a Professional Cleaning Firm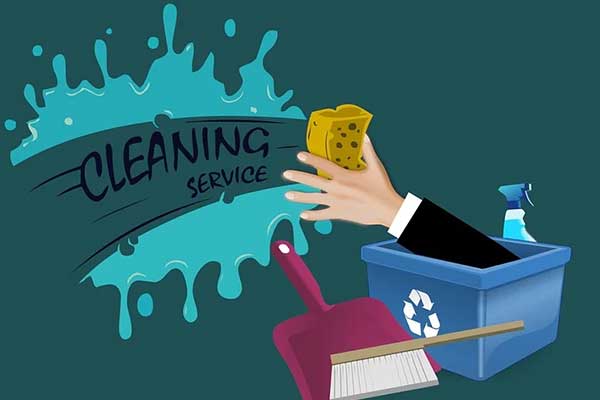 Here are HomePlus, we have always stated that you can do basic cleaning on your own. That is why our blog is littered with tips on how to clean certain parts of your house. However, some cleaning tasks require expert knowledge and professional tools. In that case, it is almost always better to hire a professional cleaning firm.
A professional cleaning firm will be able to understand what you require and let you save time as they clean your building. Generally, we recommend that even building owners/renters that regularly and stringently clean their spaces hire professional cleaners at least twice a year.
Let's take a look at certain cleaning tasks that you cannot do on your own.
Office Cleaning
You probably had a decent idea of how dirty the modern office is. Not only do numerous people come to work there every day, but there may be hundreds of new visitors as well.
Still, I am sure you will be surprised to learn that an office desk usually contains more bacteria than a toilet seat.
This alone should be enough to make you realize that you should hire a professional cleaning firm. However, if you still have doubts, just think about the nooks and crannies that exist within the typical workspace. Do you think a non-professional could effectively clean them?
The best way to account for this is to make use of a professional janitorial cleaning service. Auguste Global, which provides professional janitorial cleaning service in Woburn, MA and its surrounding areas, can clean your office regularly and make sure that you do not have to worry about spreading germs through your workspace.
Coronavirus Disinfection For Your Home
It is possible to disinfect your home on your own if you follow one of the coronavirus disinfection guides on the web. However, we would not recommend it due to the severity of the situation.
Just think about it, if you have elderly or infants in your household, coronavirus can be extremely deadly. You should do everything in your power to make sure that your house stays clean. Of course, not leaving your house is not an option as there are bills to pay, salaries to earn, and supplies to purchase.
Having a professional cleaning firm come on a weekly basis and disinfect your house is very beneficial for the health of your household at this time. If you are worried about contracting coronavirus from the cleaners, then you should take a look at their website. Most cleaners have a page dedicated to how they make sure their employees are safe and healthy before they enter your home. Cleaning companies also take steps to ensure that you do not come into contact with the cleaners themselves.
Industrial Cleaning
This should be self-explanatory, but you should never clean an industrial space without the proper tools. This is especially true if you have hazardous equipment. When looking for an industrial cleaner, you must find one with the right expertise as well as the correct permits.
In fact, while you can hire in-house janitorial staff to do a minor clean of your office space and disinfect your own home to a reasonable extent, this is something that you should never delegate to an unlicensed professional.
Your industrial cleaner should know how to use breathing apparatus, as well as how to safely get into cramped spaces without harming themselves. Of course, industrial cleaning is a lot more expensive than your standard home cleaning, but it is a necessary part of owning an industrial space.
Any Extra-Large Space
If you own any large space, it is much better to outsource your cleaning to a professional cleaning firm. You may be tempted to hire full-time cleaners, but they will cost as much if not more than a cleaning company.
On top of that, you may not get the same quality that you will get with a cleaning company with your hires. For example, if you have a lot of carpets, in-house cleaners may not know how to properly clean and care for them to increase their longevity.
Some studies show how regular cleaning can reduce employee absenteeism. Even if you do end up paying a bit more for a professional cleaning firm, you will get that money back by having fewer employees on sick leave throughout the year.
Hire a Professional Cleaning Firm Now
HomePlus Cleaning provides professional house and office cleaning services in Woburn, MA, and its surrounding areas. Whether you require your house to be disinfected or your office space to be spotless, HomePlus can do it! Booking an appointment is easy through the online form, and you only pay for the amount of cleaning that HomePlus does. In the long run, the benefits of a professional cleaning firm far outweigh its negatives (the only negative being a slight increase in costs). As such, you are better off hiring a cleaning company and having the peace of mind of working/living in a bacteria-free environment.
---