Cleaning Mistakes Most Office Managers Make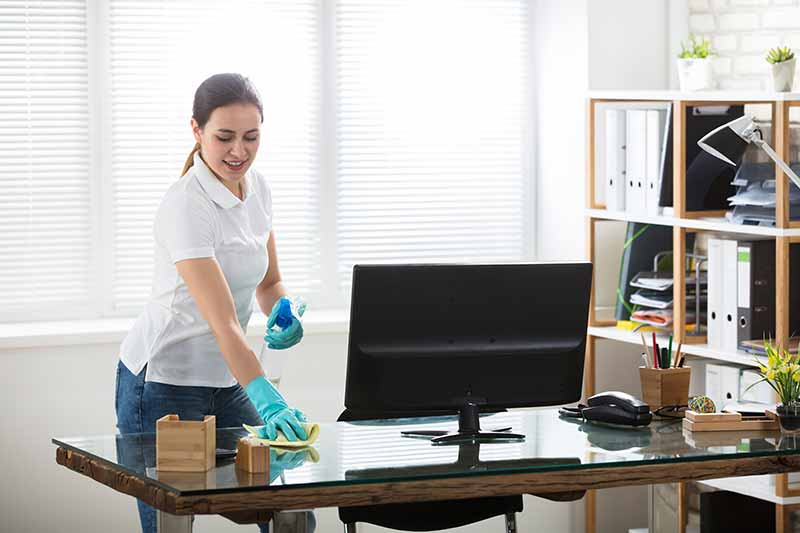 As an office manager, there are several reasons why you should pay attention to workplace cleanliness. The health and safety of everyone who enters and exits your office depend heavily on cleanliness. Scientific research has also shown that a spotless workplace improves mood and productivity.
The issue with DIY office cleaning is that there are a lot of things that may go wrong. It is highly recommended to hire a commercial cleaning service to make things simpler and guarantee that everything is in order.
However, the following are some things you should avoid doing when cleaning up quickly or as you wait for the pros to arrive:
Ignoring Spills or Stains
If the carpet in your office is patterned, a spill can easily become part of the pattern. Despite your best intentions, it's not always the case that your employees accept responsibility for their mishaps.
Some workers ignore it because they don't want to cause trouble or take the fall, others don't think it's their responsibility to clean up spills, and others just don't want to clean.
Although a minor spill here and there might seem harmless, they eventually cause long-term damage to floors, upholstery, and other things. As a result, your company's reputation may suffer, harming your connections with clients.
Cleaning Only Visible Areas
For delicate clothes, spot washing works nicely. In the workplace? Not really. In fact, you must be as thorough as you can to clean your office effectively and efficiently.
Remember that many places in a workplace are hidden where dirt, dust, and grime can amass. Table bottoms, the area beneath furniture, and the individual blind slats are a few examples. If you don't thoroughly clean your workspace, you could encourage the growth of bacteria, viruses, and fungi, which could lead to allergies and other illnesses.
Therefore, you should thoroughly clean every nook and cranny in your office, especially those that aren't visible at first glance. Even if you don't have to clean them every day, ensure they are attended to regularly.
Incorrect Use of Cleaning Supplies
Many companies carry a basic bottle of all-purpose cleaner in the break room for everything from spills and stains to bathroom cleaning and mid-day disinfecting. However, these cleaners are not as versatile as they are marketed. In truth, there isn't a single cleaning solution suitable for every circumstance in your company.
All-purpose cleaning won't effectively complete the task and will produce excessive chemical buildup if you use it for everything. You must utilize the appropriate cleaning supplies for each special circumstance, regardless of what occurs in your office. Otherwise, you're wasting money and endangering the health of your clients and employees.
HomePlus utilizes a variety of chemicals that can be customized to meet your specific demands. Our office cleaning in Carlisle, MA, uses broad-spectrum disinfectants to target numerous pathogens in your office.
Using Damaged or Harsh Chemicals
Harsh chemicals should be avoided since they harm the environment and your health. Overexposure to some chemicals or fumes has been shown to harm the body and increase rates of illness among employees. This can result in lower output and decreased productivity. Your business can lose money when workers use more sick days.
Harsh chemicals also harm the environment, and your company could face fines with increasing requirements to combat climate change.
At HomePlus, we prioritize sustainability and safety, which is why we use microfiber towels, Green Seal-certified disinfectants, and HEPA filter vacuums. Our green cleaning programs are designed to benefit both your company and the environment.
Not Disinfecting Daily
Many individuals believe that something is clean if it seems to be clean. However, infections and germs are small organisms that are invisible to human eyes. Even though a place could seem clean, it probably isn't sanitized.
You must regularly disinfect your facility if you want to maintain your office spotless, cut down on staff sick days, and ensure that everyone is healthy. This is especially crucial for public spaces like the kitchen, break room, and restrooms. Make sure to go the extra mile to disinfect as germs can negatively impact daily living as well as corporate profitability and longevity daily.
Not Emptying Trash Daily
Your trash bin becomes useless once it starts to overflow. Trash cans should be emptied daily to avoid attracting rats, insects, and odors, all of which will decrease workplace productivity.
You can ensure that you are not losing money due to constant distractions by routinely cleaning your office garbage containers.
Hire Commercial Cleaning Service
When you have to handle the cleaning yourself, avoiding these office cleaning mistakes can save you a lot of time and frustration. However, hiring a professional cleaning service like HomePlus is the best way to prevent making these errors and maintain your office spot-free.
Our office cleaning team in Carlisle, MA, includes qualified and seasoned cleaners that employ cutting-edge technologies to guarantee the greatest cleanliness standard.
For booking, click here!
---